UK Fashion, Beauty & Lifestyle Blogger
Hi, I'm Sarah! I've been a fashion and beauty blogger for over 15 years, based in North East UK.
My blog, Temporary:Secretary, offers a blend of fashion and beauty blog content. In addition, you'll find occasional lifestyle, home inspiration, travel, and pet content because who doesn't love adorable pet pics on the Internet?!
About Me:
Back in 2008, while still in university, I began my own e-commerce business as a side hustle from my bedroom. It received national press coverage and even caught the attention of celebrity Fearne Cotton, who wore my products on the cover of Sugar Magazine, and girl group Little Mix.
Around this time, I also delved into blogging and became part of the first generation of mainstream high street style bloggers. In 2011, I was voted LOOK Magazine's Best Blogger, which was a defining moment for me.
In addition to my passion for blogging, I worked as a freelance content creator for a number of small independent businesses before transitioning into my now-career in marketing and digital. I spent a brief period in the digital team at Soap & Glory in London before moving on to work in social media for an award-winning fashion department store. Finally, I was part of the marketing team at one of Europe's largest shopping centres.
About My Fashion & Beauty Blog:
Winning LOOK Magazine's best blogger in 2011 propelled my fashion and beauty blog to new heights. I am grateful for the opportunity to collaborate with national and global brands while maintaining editorial and creative independence.
If you're looking for a fashion, beauty and lifestyle blogger  based in the UK (or North East England to be a bit more precise) to partner with for outreach and campaigns, I would love to be involved.
Please feel free to email me, which you can find on my contact page.
My fashion & beauty blogging highlights so far:
I was one out of the five bloggers chosen to front a social media campaign for F&F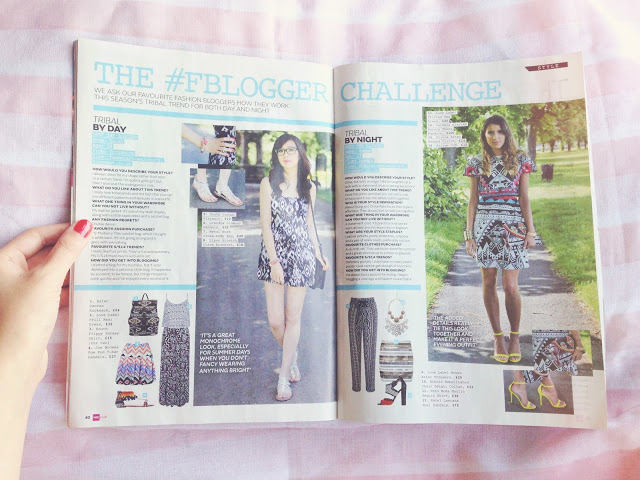 A full page spread in Very.co.uk Magazine (supplement with OK Magazine)
I worked with LOOK Magazine on their campaign with Malibu Rum. I was given my own column in 6 issues of LOOK Magazine that Summer.
…..
Highlights
Won LOOK Magazine's Best Blogger (read my competition entry here and check out the event photos here).
Shortlisted for a Cosmo Blog Awards in 2012 (Established Fashion Blog category).
I was one of the five bloggers involved in F&F Partywear campaign.
Worked alongside Stylight for the app launch, and attended their bloggers party in Germany.
Official blogger for Malibu Rum in 2013 creating content for the social media channels.
Featured in six issues of LOOK Magazine as part of Malibu Summer campaign.
Featured in Very.co.uk Magazine.
I was a Dahlia Girlfriend where I contributed to their blog for six months.
Was a guest blogger on Fashion Union for three months.
Official UK Blogger for Spanish brand, Baleeblu where I attended the WGSN Fashion Awards at the V&A with them as part of their big launch.
Want To Work With Me?
I love creating content and if you think that I fit within your brand's profile, I'd love to hear from you. Please get in touch and email me at [email protected]
Brands that I have worked with includes:
Selfridges | ASOS | Hobbs | | Selfridges | Ted Baker | Fiorelli |  New Look | Dorothy Perkins | OUTFIT | Jules B | BANK | Dahlia | F&F | Laura Ashley | Cath Kidston | Very.co.uk | Glamorous | Daniel Footwear | Fashion Union | House of Fraser | Rare London | Marc B | Vente Privee | Voucher Codes | Cloggs | Rekorderlig Premium Cider | Pago Fruit Juice | Malibu Rum | Crown Paints | Tempur | Hive | Yankee Candle and various beauty brands such as Boots, Soap & Glory, Ciaté, NARS, Liz Earle, QVC, Avon, Jurlique, Benefit Cosmetics and Balance Me.
Social Media Links
Follow me on Twitter
Like my Facebook Page
Follow me on Instagram
Follow me on Pinterest
Disclaimer: As of May 2012, items marked with an asterisk [*] will indicate a gifted sample sent to me by a PR, brand representatives, or a digital marketing agency. Gifted samples are only accepted on the basis that it is in line with the style and aesthetics of my blog.
This blog contain affiliate marketing links via Skimlinks and rStyle.
All of the content on my blog (text and photography) are my own unless otherwise stated. Please do not use the images from this website without prior permission.