HELLO! My name is Sarah!
I am a UK fashion and beauty blogger based in the North East of England
Temporary:Secretary is predominately a
fashion
and
beauty blog
, but you will also find the odd bit of
lifestyle
,
home inspiration,
travel
,
and a few
cute pet
photos from time to time! Because we all know how much the Internet loves cute photos of fluffy animals and I like to please the crowd!
Before the blog…
I was always in to fashion and beauty, even at a young age…. Yadda yadda yadda. Such a cliché, right?!
Pretty dresses and stylish outfits were totally my thing when I was little. Some of my earliest memories includes pulling clothes out of my mum's wardrobe and making a royal mess trying them on, whilst my teenage years were spent reading fashion magazines and pulling the pages apart to make a scrap book of all the outfits I wanted to wear. As I got older, I knew there was another side of fashion and I wanted to explore the business part of it.
I went on to study A-Levels in Textiles and Business Studies (Dull. Boring), followed by the best two years of my life studying Fashion Design at college, which then led me on to graduate from University in 2009 with a 2:1 degree in Fashion Marketing BA (hons). High five to that. I made it out alive!
It was in my final year at uni when I decided to launch my own business. Little did I know that this impulsive decision was to shape my life. Still, at the time, I was completely winging it but I was on a roll and there was no stopping me!
I ran my own business for 6 years, a business which I launched in 2008 while I was still at University. It received national press coverage (worn by Fearne Cotton on the front cover of Sugar Magazine and girl band, Little Mix), it was an hugely exciting time for me. But all good things come to an end…
I dabbled in freelance work with small independent businesses, helping them to develop their brand and online presence, as well as enjoying an interim placement with the almighty Clean Of England, Soap & Glory. Working in digital marketing at a one of the UK'S best-selling beauty brand was pretty much a total dream and I really wanted to stay but I decided that London wasn't my cup of tea. I came to learn that I am more of a country bumpkin than I thought.
So back up to the north I went! And back to blogging. Full-time, full speed.
Being a blogger…
After I won LOOK Magazine's blogging competition in 2011, the blog took off and it even took me by suppose, but I appreciate that I was in the right place at the right time. I ran with the opportunity and haven't looked back since.
I enjoy working with brands while retaining editorial and creative control and I feel very lucky to be in the position where brands trust me enough to do this. This blog has opened up a lot opportunity for me and I'm grateful to have this space on the Internet to create nice things for you to read. It's a space to create great, uplifting content.
Like most bloggers, I am the only person behind my blog. There's no 'team', it's just little old me (plus whoever I rope in to take my outfit photos). Bonnie likes to think she's a helpful helper but, I mean… She just sits there looking all pretty all day long.
Here are my blogging highlights so far:
I was one out of the five bloggers chosen to front a social media campaign for F&F.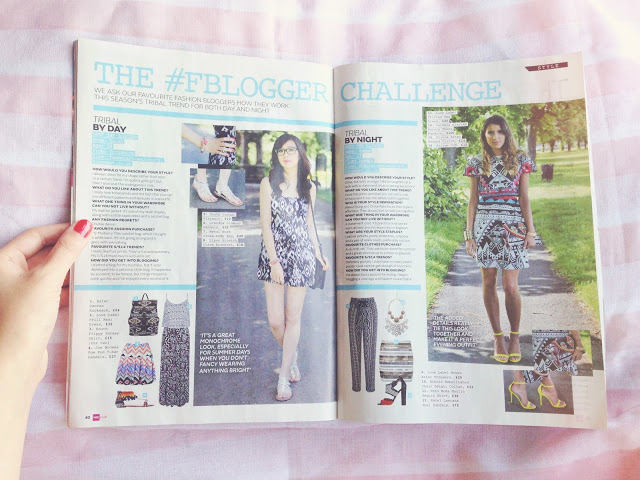 A full page spread in Very.co.uk Magazine (supplement with OK Magazine).
I worked with LOOK Magazine on their campaign with Malibu Rum. I was given my own column in 6 issues of LOOK Magazine that Summer.
…..
Highlights and Achievements
Won LOOK Magazine's Best Blogger (read my competition entry here and check out the event photos here).
Shortlisted for a Cosmo Blog Awards in 2012 (Established Fashion Blog category).
Worked alongside Stylight for the app launch, and attended their bloggers party in Germany.
Official blogger for Malibu Rum in 2013 creating content for the social media channels.
Featured in six issues of LOOK Magazine as part of Malibu Summer campaign.
Featured in Very.co.uk Magazine.
I was a Dahlia Girlfriend where I contributed to their blog for six months.
Was a guest blogger on Fashion Union for three months.
Official UK Blogger for Spanish brand, Baleeblu where I attended the WGSN Fashion Awards at the V&A with them as part of their big launch.
Want to work with me?…
If you think your brand fits within the aesthetics of my blog and my style, please get in touch to discuss any ideas of working together.
My media kit and examples of work are available upon request. For business enquires, advertorial, sponsored placements, and social media activation, please email me at blog@temporary-secretary.com. I look forward to hear from you!
Brands that I have worked with:
ASOS | Hobbs | | Selfridges | Ted Baker | Fiorelli |  New Look | Dorothy Perkins | OUTFIT | Jules B | BANK | Dahlia | F&F | Laura Ashley | Cath Kidston | Very.co.uk | Glamorous | Daniel Footwear | Fashion Union | House of Fraser | Rare London |Marc B | Vente Privee | Voucher Codes | Cloggs | Rekorderlig Premium Cider | Pago Fruit Juice | Malibu Rum | Yankee Candle  and various beauty brands such as Soap & Glory, Ciaté, NARS, Liz Earle, QVC, MeMeMe, Benefit and Balance Me.
Social Media Links