Things to do and places to eat when you're visiting Edinburgh for 2 days
I don't know about you but Instagram has a huge influence on where I want to visit or travel to. Not to say that I will book a place purely for the 'gram, but it does have the power of persuasion. I know you know what I'm talking about.
It has been well over ten years since I last visited Edinburgh and to be honest, I have no recollection of it rather than pacing up and down Princes Street on a warm summer's day. It hasn't been on my radar until recently. That is, until I kept seeing photos of the pretty streets and architecture on Instagram, and I felt a strong compulsion to book a trip to Edinburgh and explore the city. Properly this time.
After the trains tickets were booked, I planned the whole trip using Instagram. It was my go-to research tool and I used the platform to check out what the best places for food, markets, shopping, bars, leisure, museum, sights and accommodation were and worked up an itinerary based on the visual recommendations of Instagram. The power of social, right?!
My boyfriend James is actually part-Scottish and have family who live in Edinburgh whom I was meeting for the first time. They also gave us lots of recommendations too for which I will save for the next trip.
I decided that two days in Edinburgh was enough this time but that I will visit again if I liked it. And I did indeed loved it! So much! It's only 2 and a half hours away from me by train, so it's not a trek for me to return more frequently.
Where we stayed in Edinburgh
First things first, we stayed in the cutest Airbnb. Out of respect for the host, of course, I won't reveal the exact location but if you fancy booking an Airbnb in Edinburgh, I do recommend this cute apartment with it's trendy minimal decor, exposed brick wall, and high ceilings. The apartment is small, but roomy, and has everything you need plus extra little surprises.
Most importantly, it has convenient transport links. There's a bus stop 30 seconds down to road that takes you in to the city centre within 10-15 minutes depending on the traffic. There a big Lidl and Sainsbury's less than two minutes walk.
James did a flat tour on Instagram Story, so here it is if you want to see more of the Airbnb.
Edinburgh's Best Bits
Victoria Street
Victoria Street is a street you may have seen on Instagram before, with it's colourful shopfronts was JK Rowling's inspiration for Harry Potter's Diagon Alley. The charming row of shops are all independent business selling things from clothing to whacky gifts, antiques and traditional souvenirs.
The upper part of the street are lined with restaurants with a walk way up to the castle.
Mary's Milk Bar
If you continue walking down Victoria Street, you'll end up in Grassmarket where I stumbled across Mary's Milk Bar. I had it on my list (via Instagram, obvs!) but I didn't actively make an effort to go because it was bloomin' freezing that day and I wasn't sure that eating ice-cream was a good idea. Despite the fact that James' is wearing knitted gloves, this was actually in Spring.
Anyhow, I was happy to have found it and since we were there, I couldn't not go in so I ordered a scoop of salted caramel whilst James came all over adventurous all of a sudden and got a scoop of fig & mascarpone and peanut & smoked paprika… not sure he even knew what any of those ingredients are, but I'm proud of him for selecting something different other than his usual (vanilla).
Ting Thai Caravan
So, there's currently zero content on Ting Thai Caravan's Instagram, not sure how I even found them to begin with. But I've been craving Thai so I persevered, went on their website and thought to myself that any business whose website is that cool must be legit.
It was a nice walk from Grassmarket to Teviot Square where Ting Thai Caravan is located nestled amongst the student community. It's close to the university and the student halls, so Teviot Square and the surrounding areas were filled with students who were having a quick lunch. It was busy and it had a fast-moving, vibrant atmosphere.
We ordered king prawn pad thai, massaman curry ped nam peung (honey duck breast), roti and rice to share between the two of us.
Edinburgh castle
Obviously, you can't go Edinburgh without visiting the castle. Thanks to James' auntie who works at Edinburgh Castle, we got in for free and got to spend a few hours there.
It's such a big castle with so much to see and so much to learn, we didn't have time to wander around to each area. It wasn't the nicest of weather at the time (you can tell by the trees in the photo, you can tell what kind of a Spring we had when Spring looks more like Autumn!) but we'll return on a dryer, calmer day!
OBSCURA
Would you believe it; my little sister was in Edinburgh on the same weekend as me (unplanned) and I only bumped in to her in Wahaca, didnt I. Wearing the same top. Ordering the same food. We definitely have that sisterly telepathic connection.
After a spicy taco or two, we went to Obscura. I had heard about it via Zoe Sugg and Alfie Deyes vlog a few years ago and it looked fun. I'm glad I went and it was a laugh, the illusions were good. However, a tiny part of me was disappointed was the Camera Obscura show on the very top floor. The host, who presented the whole thing in an entertaining and animated way, did a great job, but we just sat in the dark for 20 minutes looking at the same thing.
The Elephant House
Could this be where your writing dreams come true? It could be…
The Elephant House, incase you don't know by now, was where JK Rowling sat and wrote some of her books.
Admittedly, I didn't walk in for drinks or food, the menu didn't exactly leap out but it was nice to see it since it is where the wizardry magic began. Another sight for all Potter fans.
Naked Bakery
Everything in this bakery is vegan and free-from. From the rainbow cakes, to plant-based breakfasts to colourful lattes, it's the bakery you want to visit whether you're vegan or not.
I had a cake and beetroot latte, the latter of which is new to my tastebuds but I've always wanted to know what it tastes like. It obviously didn't taste like a regular latte, it was deliciously milky with a slight hint of earthy and acidity. As bold as it looks in colour, it was quite mild in flavour.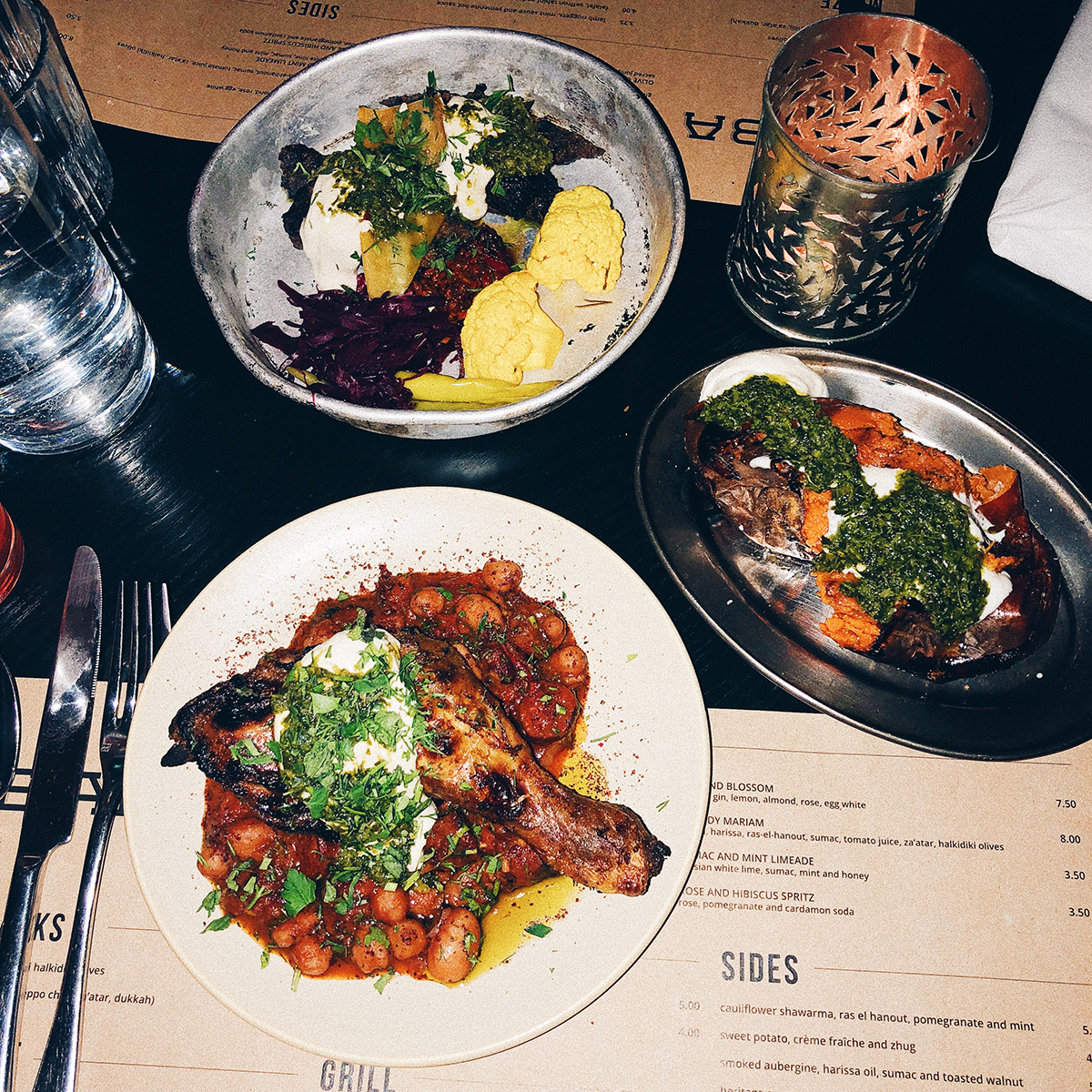 Baba Restaurant
Saving the best 'til last. And it's obviously food related. I might dedicate a whole blogpost on Baba, so will keep it brief (famous last words…since I can't seem to keep up with blogging (at all) anymore) but out of the 2 days in Edinburgh, Baba was the highlight of the trip.
It's Eastern-Mediterranean inspired (the Levant to be precise) set in the most gorgeous decor. On the menu were the likes of the familiar shwarmas, koftis, houmous, falafels… all done with a Baba twist. It looks like they change up the menu every few months which means it's different, fresh and exciting each time you go. Full review on it's way soon…. or not… I mean, I'll try my best but I'm a flaky blogger these days. (I'm sorry!!!!)