Chaophraya in Newcastle is part of a well-known restaurant group that promises to offer an immersive and authentic dining experience.
The restaurant offers a contemporary dining experience, combining traditional Thai cuisine with modern flair. Their menu features a range of classic and contemporary dishes, including traditional curries, stir-fries, and noodles, as well as unique fusion dishes that combine Thai flavors with other international cuisines.
While exploring Eldon Square in Newcastle after an  ELEMIS facial treatment, my mum and I stumbled upon Chaophraya tucked away in a corner of Grey's Quarter.

As it was a hot day with clear blue skies (quite a rarity in Newcastle), and the Chaophraya in Newcastle has a lovely rooftop terrace. It felt like the perfect place to eat lunch when the weather is nice, soaking up the sun, overlooking Grey's Monument.
With only ten tables available at the terrace, it's recommended to book ahead to avoid disappointment. Some have been turned away. Luckily, we visited during a quiet weekday lunchtime and were able to secure a spot without a reservation.
I imagine this area to be just as nice in the evening with the festoon lights switched on and candles lit.
With marble top tables, festoon lighting, hanging birdcage candle holders, and plush seats, it's somewhat a blogger's dream and most certainly one of the nicest settings for what was supposed to be a casual mum-daughter lunch.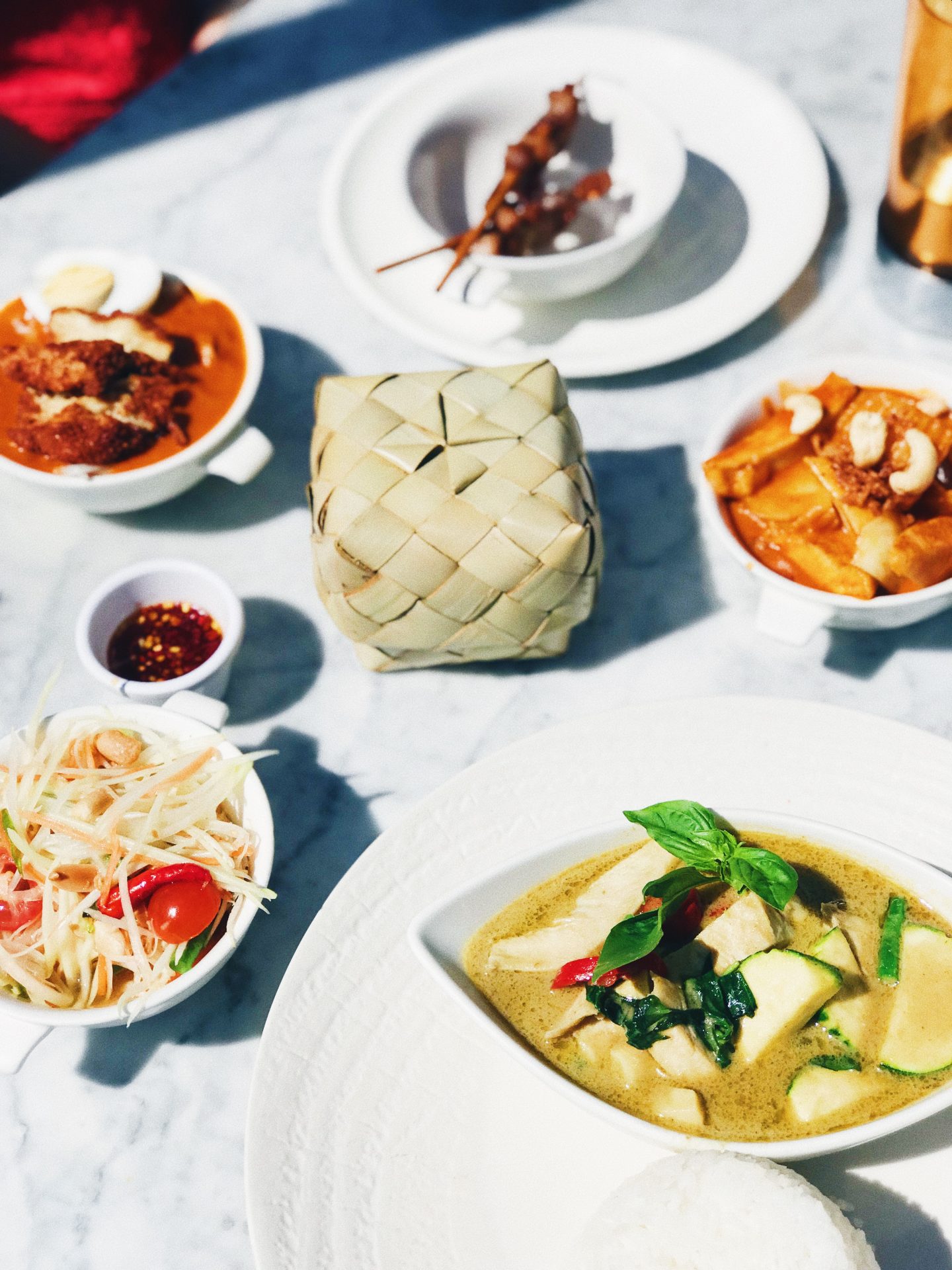 My mum and I kicked off the year with a spontaneous trip to Thailand so I guess you could our visit to Chaophraya was meant to relive our holiday memories.
The ambiance, vibe, and service were impeccable with no room for complaint. I really did love being seated at the rooftop terrace.
However, when it comes to the food, a couple of the dishes did not meet our expectations. I might consider giving it another chance, but the food didn't match the restaurant's style or prices. Not uncommon for a chain restaurant, I am aware.
I opted for the chicken green curry, the sauce was fine but the meat was not exceptional. If I were to visit Chaophraya again, I would choose a different dish. The quality of the chicken was not quite up to par; it had a soft texture reminiscent of reformed meat.
My Mum got the set lunch with 4 small dishes and a basket of sticky rice, enough for one person. The dishes were pork skewers, curried noodle soup, Massaman curry, and papaya salad. Papaya salad, one of my favorites, was delicious. Next time, I might order it as a main course.
But… the Kao Soi Gai curried noodle soup wasn't like any Kao Soi Gai we had in Thailand. I understand it might have been 'Thai inspired' but even so, it was no where near. It was a small bowl of congealed noodle that had a ladle of thick sauce with some fried chicken and a random (over) boiled egg on top. It wasn't a soup.
Growing up in the UK, I understand the idea of fusion food and the adaptation of Asian-inspired cuisine. However, the dish was described as a soup noodle on the menu and this was not an accurate representation. I wouldn't want anyone to think that this is what Asian food is like – whether it's adapted or authentic.
As far as I know, Kao Soi Gai is meant to be a soup with crispy fried noodles on top.
Maybe, the bottom line is, that when it comes to Asian food, I'm just very fussy. I felt the exact same way when I took my family to Thaikhun.
Despite this, I appreciate that others may have different experiences and preferences, and I would not discourage anyone from giving Chaophraya a try. Personally, the food at Chaopraya left me underwhelmed 🙁