Chaophraya Thai Dining in Newcastle
After treating my Mum to an ELEMIS facial treatment, we stumbled across Thai restaurant Chaophraya in Eldon Square, Newcastle. Literally stumbled across it. It's not to say that Chaophraya is a hidden gem by any means, but it is located in a corner amongst the other much louder, more colourful food establishments at Eldon Square's Grey Quarter which includes Frankie & Benny's, Bella Italia, Chiquita and T.G.I Fridays to name but a few.

You access Chaopraya by going up a flight of stairs, and upon entering you'll realise that THAT small corner entrance leads you to a spacious, fancy roof top restaurant (complete with a open roof top terrace) boasting the best view – out of all the food establishments at Grey's Quarter – overlooking Grey's Monument.
It was the middle of May during our visit, and it was surprisingly warm for that time of year (although, looking back, it was not so surprising considering the Summer we're having). There wasn't a cloud in the sky and the sun was beaming down, and as it wasn't busy, we were given the option of sitting at the roof top terrace.
There are about ten tables in this area, so I assume you'd normally need to book in advance if you wanted to sit at the terrace. In fact, it's definitely better to book as I've heard that some people have been turned away. We were just lucky, we were there at lunch time on a weekday, and it wasn't busy at all.
With marble top tables, festoon lighting, hanging birdcage candle holders, and plush seats, it's somewhat a blogger's dream and most certainly one of the nicest settings for what was supposed to be a casual mum-daughter lunch.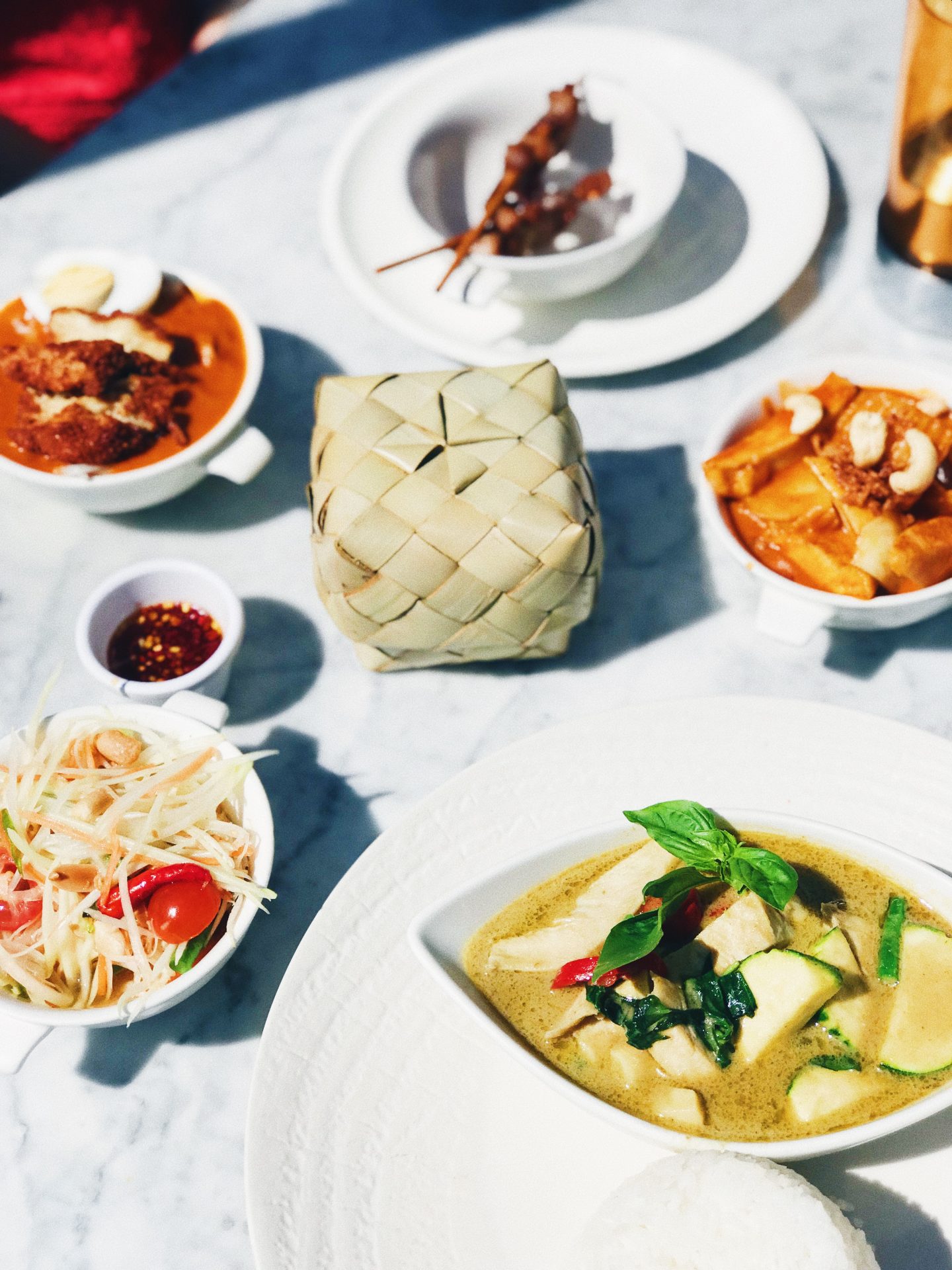 My mum and I actually started this year in Thailand. We booked an impromptu trip in the first week of January and 2 weeks later, we were on a plane to Bangkok. I've been meaning to blog about it but I (still) haven't got round to sorting out the million of photos I've dumped on to my external hard drive. But basically, we wanted to re-live our holiday memories through Chaophraya. And it was this expectation that turned out to be the downfall.
The setting, the atmosphere, and the service itself was great – no faults there. The food, sadly, did not match the same standard. Having said that, the food wasn't actually bad, but I walked in with expectations and those expectations were not met. My fault, really.
Thai food is one of my faves (alongside Japanese, and of course, Chinese!) but it's not widely available in the north east, and when you do, it's not exactly authentic. Still, I will take what I can and eat any Thai-related food offered to me.
I ordered a chicken Green Curry –  It was fine, but just fine. If I went to Chaopraya again (and I will!), I'd order something else. The quality of the chicken wasn't quite right. It had a soft texture, a bit like reformed meat.
My Mum ordered the set lunch which included 4 small dishes and a small basket of sticky rice. This is definitely enough for one person. The dishes were pork skewers, curried noodle soup, massaman curry, and papaya salad. I love papaya salad and this was really yummy, I'd order it as a main course next time.
Now, I don't want this to turn into a negative review because I would actually like to return to Chaopraya at some point in the future! But… I hate to say it, the Kao Soi Gai curried noodle soup wasn't like any Kao Soi Gai we've had in Thailand. I understand it might be 'thai inspired' but in this case, it was no where near.
In the grand scheme of things, it's not a big deal and it doesn't deter me from returning. I completely get the idea of fusion food and I know more than anyone that Asian-inspired cuisine tend to be adapted to the western palette, but this wasn't a soup noodle as described on the menu.
As far as I know, it's meant to be a soup with crispy fried noodles on top. This one had a clump of soft pad thai-style vermicelli rice noodles at the bottle of the bowl with a thick sauce over it, and breaded chicken and half a boiled egg on top. Basically, if Thailand did their version of spaghetti Bolognese, this would be it.
Everything was perfectly edible and it had a great amount of flavour, the prices were reasonable too. Maybe, the bottom line is, that when it comes to Asian food, I'm just very fussy. I felt the same way when I took my family to Thaikun. Loved the street food style concept, but I wasn't crazy about the food. In true British style, even though I didn't enjoy it 100%, I feel really bad and guilty about it!
Now that I know what to expect, if I go again I will take it as face value. I should have known better to go in with an open mind – but I crave for authentic Thai food so much, and at this point, the only way I can have it is to learn how to make it myself.