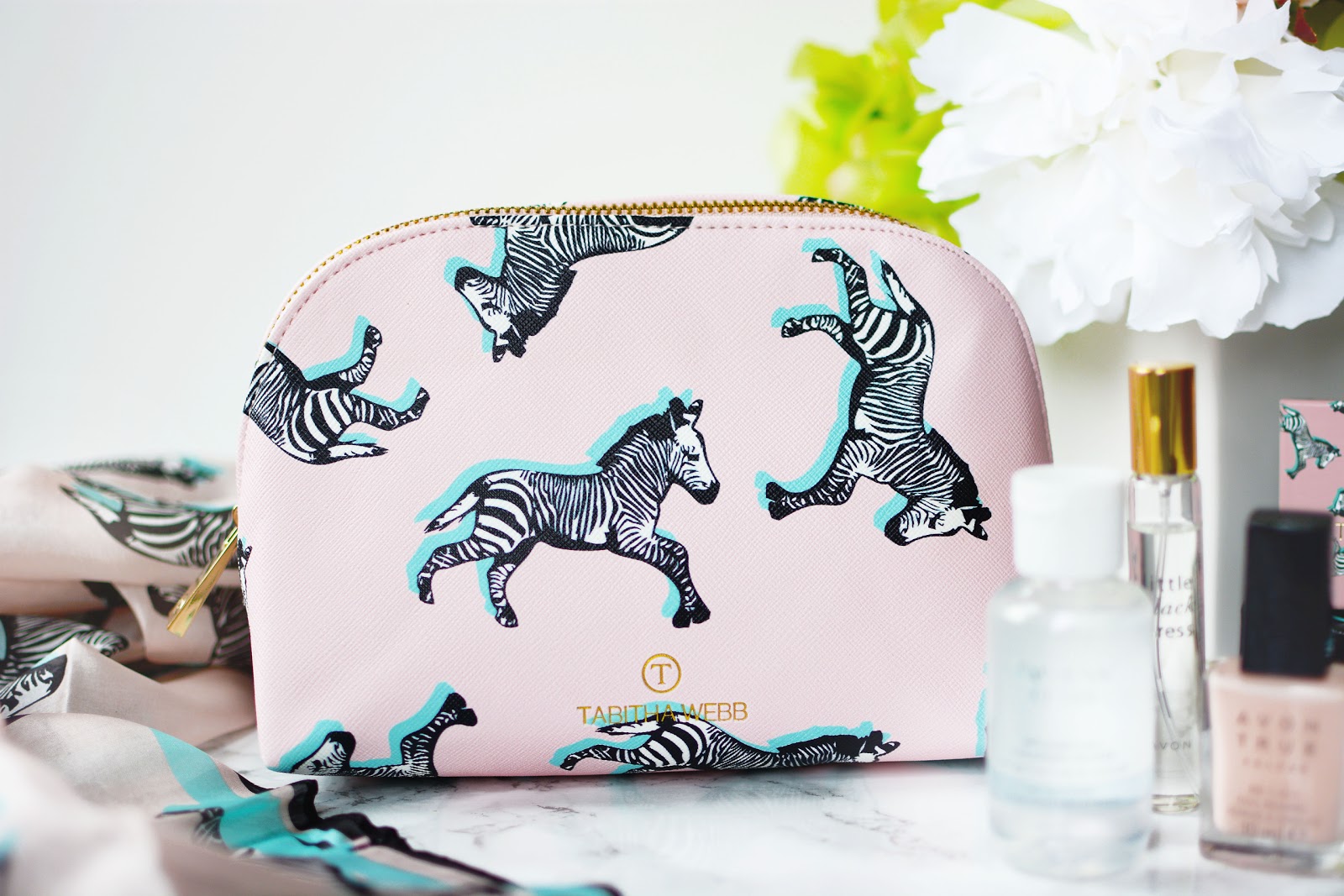 Exclusively designed for Avon
It can be quite boring to see everyone wear the same brand of accessories but if you're looking for something different, I would recommend
The T by Tabitha Webb collection
 designed exclusively for
Avon
. Having said that, I once saw a lady carrying the same Tabitha Webb handbag as me, she spotted me and shot me a knowing glanced. We exchanged smiles as if we were in a secret club. That was a rather funny moment.
For a several seasons now, Avon have collaborated with British fashion designer, Tabitha Webb and as as a keen follower of the partnership, I'm always excited to see what stylish designs they have developed together. It features a playful zebra print which I adore and the pink/aqua green colour theme is one of my favourite colour combos!
The inspiration behind the latest
T by Tabitha Webb collection
are, as you can tell, zebras. As one of designer's favourite animals, the focus on the animal's stripes and the way they look have influenced Tabitha Webb's gorgeous new collection which is exclusively designed for Avon.
The fashion forward range includes:
T by Tabitha Webb Selous Handbag in grey which is spacious, has multiple compartments plus the exclusive zebra-print lining. If you're thinking 'oh, I wish I could wear that print or show the lining in some way' then you're in luck because a Selous Zebra Scarf which is made of 100% silk. You can wear it around your neck paired with a pair of jeans and a smart blazer jacket. Or tie it around your handbag for that added customisation to your final look.
Bring the zebra to life – ok, well, not quite to life! – but in a dimensional form of a key charm which you can attach to keys or your bag. As it comes packaged in a lovely gift box, it makes an ideal gift for someone who is equally as passionate about zebras as the designer herself.
If you're a beauty lover like I am, you'll be pleased to learn that there is a
cosmetic bag
in this beautiful range. I can't get enough of cosmetics bag, I have so much make-up and I'm constantly seeking for storage for my large collection. The cosmetics bag is PVC premium faux leather finish with the zebra print on the outer part of the design. Don't let it's size fool you, it actually fits more than you think!
And for an added treat, Avon are offering a
beauty set worth £41.50 for just £12.50
when you spent £7 or more from the C6 brochure. I don't know about you but beauty bundles like this always persuades me to spend a little more just so I can try new cosmetics products.
The beauty bundle is on offer from 1st March and it includes the stunning Tabitha Webb Selous Cosmetics Bag (you won't be disappointed, it is stunning!), True Colour BB 7-in1 Nail Enamel in Perfect Pink, ANEW Anti-Ageing 3-in-1 Cleansing Water and a pocket sized 10ml Little Black Dress Eau de Perfume Purse Spray.
Do you love the zebra print as much as I do? Which product will you be adding to your collection?
*This blogpost is sponsored by Avon. However, all words, opinions, styling and photography are completely my own.