First Impressions on Pixi by Petra Make-Up
Please excuse the festive ribbons and candy canes in some of the photos below.
I took these photos before Christmas and intended to push this post live by the end of December, but things kept being added to my to-do list that I eventually ran out of time to slot this fabulous Pixi feature in. One of the things I have learned about blogging is not to rush it and not to publish a blogpost for the sake of it.
So I decided to put this one on the back burner and come back to it when the time feels right. AND THE TIME IS NOW.
A couple of month ago, I got to try some make-up products from Pixi x Petra. I was so excited to receive this surprise parcel through the post, I was all set for the party look for the rest of December!
Pixi Beauty is a brand that I have been familiar with since I start blogging about beauty. There are always rave reviews but I haven't had a chance to try their cosmetics products until now. It's one of those brands that isn't sold near in a shop near me (the nearest one is the big M&S branch an hour away) and since I'm so fussy with colours and shades, the sensible side of me always takes over and I'm reluctant to buy their makeup online without swatching first.
Now that I've tried and test Pixi make-up, I would be more confident in placing an order online knowing that their products are great quality and highly pigmented. (I had no doubts to begin with… but it's the voice of sensible Sarah that stopped me!)
Even though these are in Christmas packaging, you can still buy these products (or something similar) within Pixi x Petra's core range.

Palette Rosette*, £24
This stunning palette includes everything you need for a party look, but with the rose, beige, and taupe shades in the all-in-one kit, it is also versatile enough for day time too.
Pixi by Petra Palette Rosette includes a trio of highlighters, 8 eyeshadows, and 3 brow powders (which could double up as eyeshadow). For the face, there is a blush, contour, and illuminating glow powder.
The face powders are really subtle and I love how all three can be used to enhance one another. Very portable, so this is such a good kit for travelling; it's got all the make-up essentials you will need for a day-to-night transformation. It comes with a double ended eyeshadow applicator, so don't forget to pack a couple of powder brushes too.
It might be a limited edition but these beautiful shades (and similar) can be found in the range.
Mattelustre Lipsticks*, £14 (shop link)
I just remembered that I have tried Pixi by Petra make up once. It was
tinted lip balm
that I received in a
beauty box subscription
. It's waxy, it drags, and the flat tip doesn't help much in the ease of application. But it didn't feel bad on your lips once you managed to get it on.
I was worried that the Mattelusture Lipstick would be as difficult to put on, but thankfully, it is soft and creamy formula. I received in Classic Red It's too blue toned for me but I'm determined to get full use out of this shade because of how nice the formula is.
I really like the finish too. It isn't a true matte (which, to me, is a good thing – my lips are too dry for mattes at the moment) and it's definitely easy to apply (and wear) as it has a slight sheen to it's finish with a plumping effect. I didn't experience the plumping effect but the vividness of the lipstick made my lips appear fuller.
I've got my eye on a shade that's a little warmer or more orange toned, like Coral Red.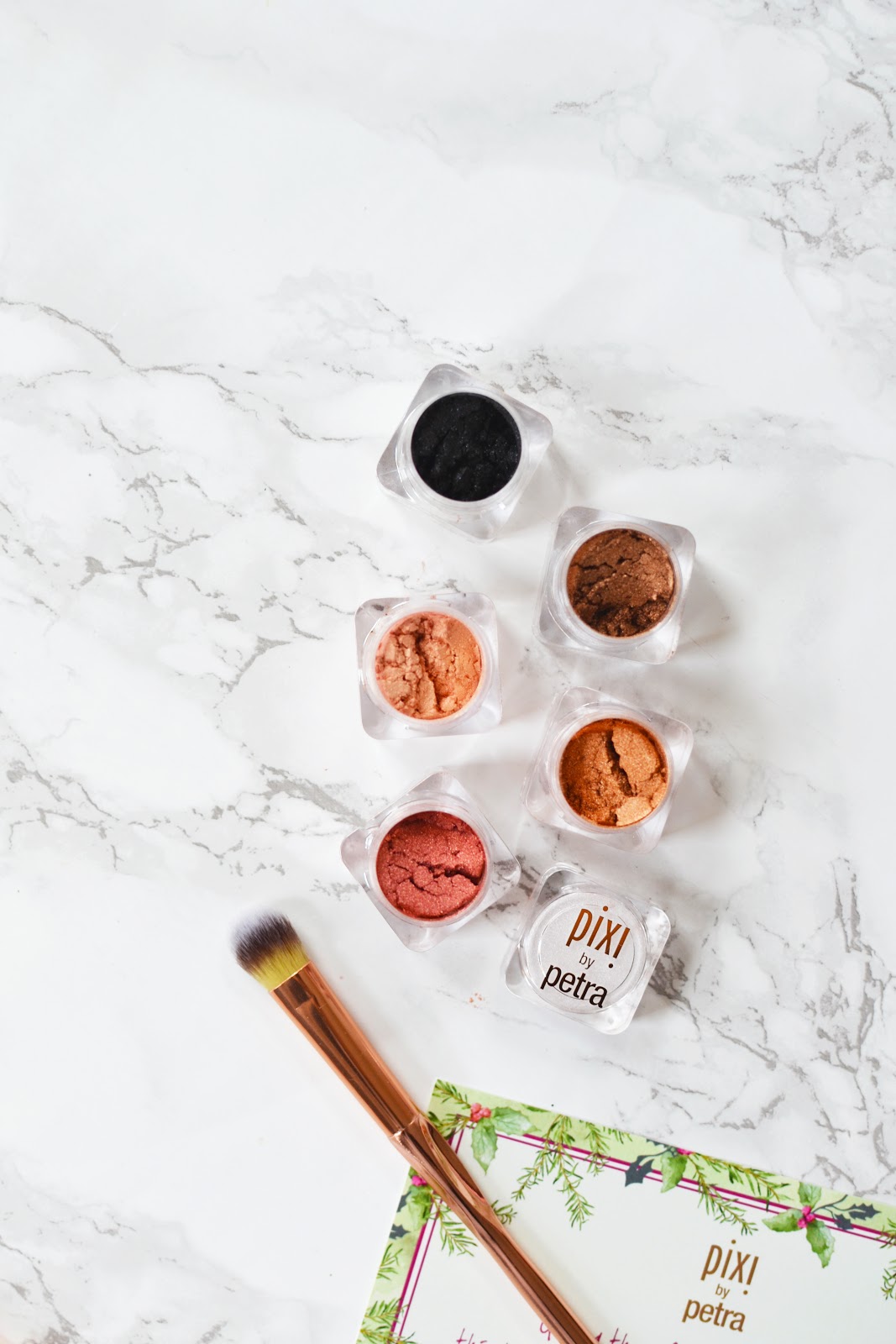 Fairy Dust Set*, £12
HOW PRETTY do these look? They are really beautiful, I can't stop looking at them! It's FAIRY DUST!
Each of the 5 stackable pots contain a good amount of 'Fairy Dust' loose eyeshadow pigments in them. They're shimmery, easy to blend, and you can layer a shade on top of another to create unique looks.
Metallic Warmth Fairy Dust Set include shades: Sheer Peach Glow, True Bronze, Ruby Sheen, Sunkissed Amber, and Black Pearl. £12 for five highly pigmented eyeshadows is such a bargain!
The shades are great but I wish they were packaged individually as opposed to a stackable design that comes with, essentially, one lid. It's only because I'm mega blind, and when I've got all the pots on the table (open, with no lid), there is a massive chance that my blind and clumsy self will accidentally tip/brush them off the surface. Argh. It's not a huge problem, of course, I just have to be super careful when using Fairy Dust.
Endless Silky Eye Pen in Opal Overcoat*, £12 (shop link)
At first, I was slightly gutted to see that this wasn't a black eyeliner. But actually, this gel pencil in Opal Overcoat (which is a pretty champagne pink) will get as much use as a black one. I would describe it as an highlighter pencil for eyes, so you can add it to wherever you want (in the lower lashline, corners of your eye, even the brow bone for an instant lift!