Nothing quite like sitting at a Pinterest-inspired
desk space
to get you motivated to work, right? I trawl through Pinterest for ideas all the time to, admiring the pretty work areas. Hashtag desk goalzzz. I don't even know where to begin to make my own work station as beautiful as that but thanks to Etsy, I've made a really good start!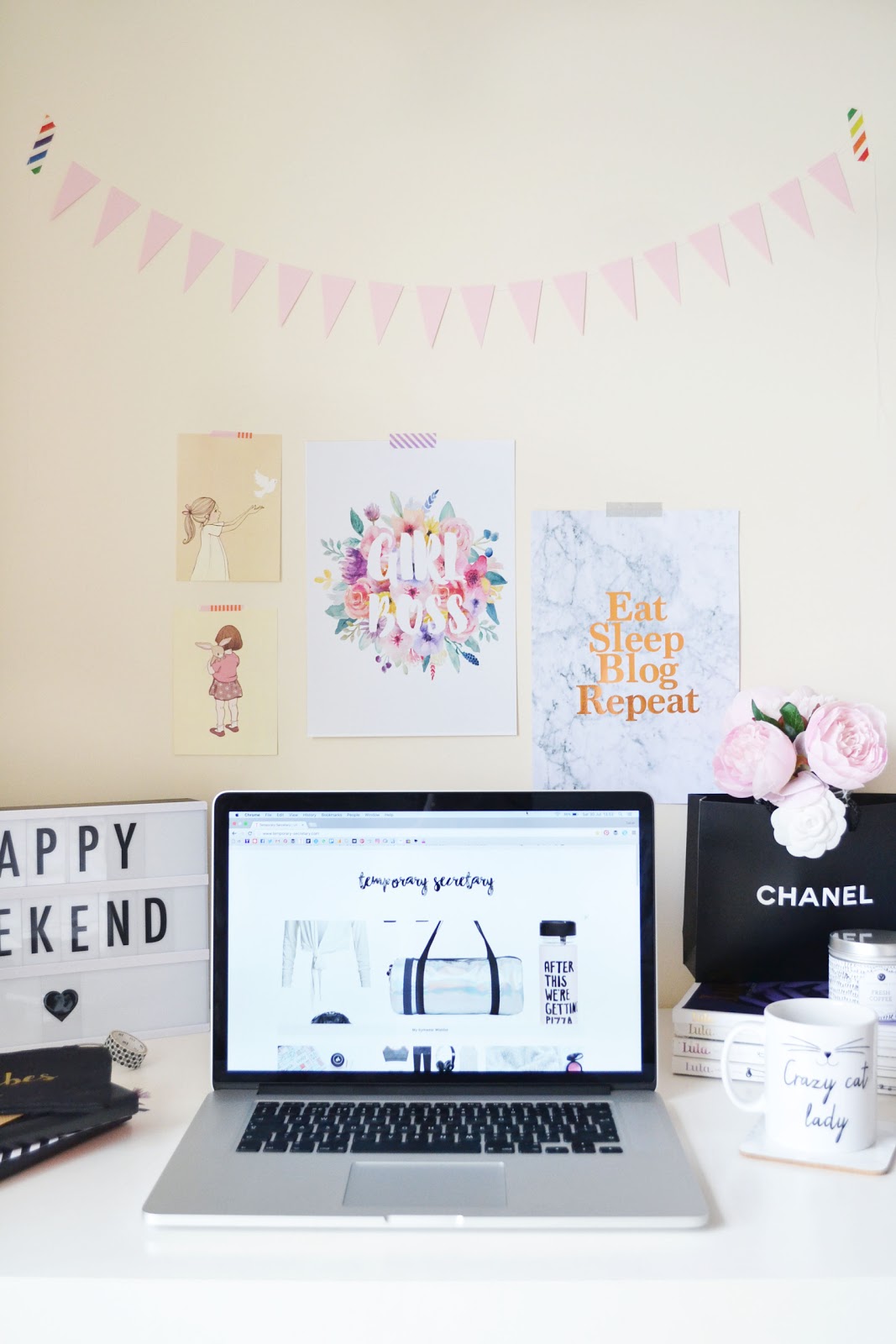 Desk Space Inspiration
They challenged me to create an 'Etsy Deskie' with things bought from independent designers and small businesses. I LOVE a good a challenge, so I took them up on this! It isn't quite finished yet but here's what I've done so far:
Wall Prints
If you ever turn to Pinterest for
desk space inspiration
, you will definitely notice the gallery wall with
motivating quotes
on them. In fact, all creative offices have motto and brand philosophy posted all over their walls to cheer you on and remind you of the journey that you're taking (woah, deep).
Having worked from home and been my own boss for 8 years (apart from when
I moved to London
last year… I just really had to escape for a bit!), I don't think it hurts to have a wall with quotes to help push you every day!
I have no employees, so it's up to me to encourage and motivate myself and it's not easy to keep the momentum going after all these years. Finding fresh ways to keep you going does help, and hopefully my new wall full of inspirational quotes will do the job of pepping me up. I still need to add a lot more to the wall so if anyone can point me in the right direction or recommend some shops, that would be fab!
Mini Bunting
I got this
cute mini bunting
from a parcel that Soap & Glory sent me. The package had lots of adorable little things to decorate your desk with (they called it Al Desko!).
Fresh Coffee Scented Soy Wax Candle
I have a huge stash of candle (
have a look here
. Yep! See, I told you. It's a huge stash!) but I can't help but buy more and Etsy is a great place to look for hand-poured soy wax candles.
I thought that this fresh coffee scented candle from
Caroline Jane & Co
would make a perfect addition to my desk. And it totally does. There's nothing like fresh coffee to wake you right up – even if it is in candle form! I adore the monochrome packaging too. And the scent? OMG, it smells AMAZING! I can't tell you how incredible strong the scent is when lit AND unlit.
Lightbox
I've wanted one of these
lightboxes
for a few months but wasn't sure whether to go for the one with multicoloured lettering or just the plain black one. The black letters go with my desk and it keeps things nice and simple! Can't go wrong with monochrome, can you?
You can buy them from the high street but for a little extra cost, why not support a small business 🙂
Pencil Case
How brilliant is this pencil case? I love it! It's from a wonderful Etsy shop called
The Best Of Me Designs
and there are lots of things on there with positive quotes on them!
Coffee Mug
This is another item from The Best Of Me Designs. How could I resist a mug that says 'Crazy Cat Lady' on it! I think
Oscar
will approve of this…
Coasters
I bought some marble adhesive paper not so long ago (£6 from B&Q), so I covered one of my old coasters with that! The other one in the grid print is from
Show Me Your Bones
on Etsy and it is beautifully hand painted. I thought it would make a nice prop for my future blog photos too, so I'm sure you will see more of this coaster soon!
Blogger Stationery
People looking in on the outside don't realise how much work goes into running a blog. They don't realise how much work goes in to getting traffic through to your site. It's hard and anyone who has a website will tell you the same.
The writing element is an important part of blogging, of course! But it's only one element of blogging. Contrary to what others may think, it's really not a case of writing a 400 word blogpost on the spot, and whacking some lo-fi imagery on there. Well, not for me, anyway. It is sad when someone disses bloggers and it makes me want to say 'Well, why don't you have a go and run my blog for a week. Wait, let me give you my login details!'.
It's like running any kind of business, really – there are lots of things to keep on top of otherwise it goes down the pan! You have to keep all the cogs constantly ticking along to get everything working the way it should. As Claudia, who runs
Paper Chic Co
, is a blogger herself, she totally understands where we are coming and has created a few
blogger notepads
to help us get more organised.
As you can see above, those are just half of the blogposts I need to put together in this next couple of weeks, and that's not including the freelance projects I have taken on this month. It's going to be soooo satisfying to tick them all off the to-do list!
The little corner
Apart from the fresh coffee candle, none of the other things are from Etsy. But to pull the theme together, I gathered a few bits and pieces to give the desk more style. It's only a few magazines, a couple of candles, and a Chanel paper bag but it adds the perfect finishing touch to my work desk!
What do you think of the way I've decorated my desk?