Up until now, my beautiful
rose gold ghd straighteners
have done a fantastic job in getting
loose, tousled waves on my short hair
. It gives
soft, loose curls
in a matter of 15 minutes.
But I have started to notice that the hinge on my straighteners has come out of alignment from where I've twisted my hair and pulled to hold, so now the plates don't exactly match up and I'm panicking that this will totally damage them in the long run.
And that's why I've switched to
ghd CURVE Soft Curl Tongs
* to help me get the same kind of
beach-babe waves on my short-length hair
.
The only two things that I can do with my "lob" (long bob) hairstyle since I got about 6 inches chopped off is to either straighten or curl. When you have little length of hair to work with, using the right kind of styling tool is important in achieving the style that you're going for.
Soft Curls On Short Hair | Step by step guide
1. Firstly, you'll get best results by with day-after hair. Day-old hair holds the style better and gives you more manageability. But if this isn't an option then I would use a styling primer on towel-dried hair prior to blow drying to give a better hold. I recommend the ever so affordable Schwarzkopf Got2b Playful Styling Primer.
2. Section you hair and start by curling from underneath. Spray some heat protection on to dry hair (I am currently using the
ghd Heat Protect Spray
*). Apply the heat protection mist as you go along and brush through to ensure that each of the small section is covered.
3. Spring open the lever of the ghd CURVE and clip the tip of your hair into the middle of the barrel.
Using
ghd CURVE Soft Curl Tong
, which has a 32mm large barrel, gives tumbling soft waves, especially on long hair, but as you can see, it also works incredibly well with short shoulder length hair too.
If you have even shorter hair, you could opt for the ghd CURVE Classic Curls which has a 26mm medium barrel.
3. Hold the wand as close to the root as you can without burning your scalp (obvs), holding is as close to roots as possible will help it to give volume.
4. Keep the hair wrapped around the tongs for around 10-15 seconds. ghd CURVE Soft Curl Tongs reaches 185C at it's highest temperature.
5. Whilst still warm, hold the curl in your hands for 5 seconds before slowly dropping them, you will see the cascading curls take shape. You may also want to twist the curl with your fingers before the hair cools down.
Tip: If the curls look too uniform, curl your hair again but start mid-way instead of the tip.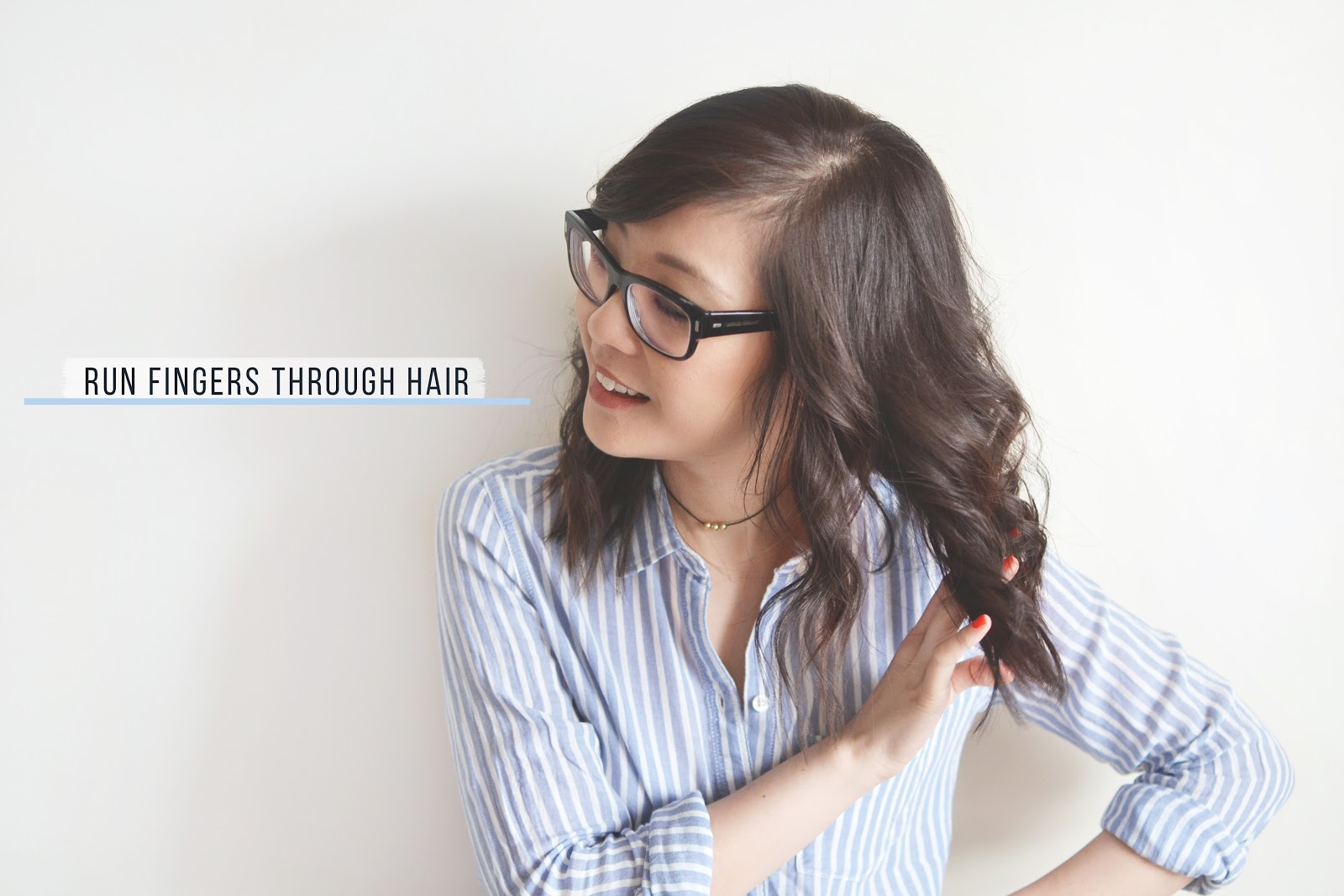 6. When you've curled all sections, run your fingers through your hair. This will give it a more natural, less uniformed look. DON'T use a hair brush in this instance because that will make the soft, loose waves disappear. Start from underneath and then use your fingers again to ruffle up the roots to give volume.
7. Finish the style with a salt spray to give it texture. Scrunch your hair in an upwards action for longer lasting curls. Finally, apply a matte hair spray to set it all in place.