Let's start by saying that fashion has no age. The title of this blogpost is just a title. Wear what you want, whenever you want. That's the only rule in fashion.
I lived in denim shorts throughout college and uni, and many years after that. Everyone, no matter what age, need a pair of denim shorts. It's a staple piece. Full stop.
But I literally grew out of those studded
denim short shorts
I had, so I decided it was time to buy a bigger, more comfortable pair! A pair where I didn't have to worry about having to pop the top button off after eating a double cheeseburger and fries.
Fashion In Your 30's: How To Style Denim Shorts
I wondered if I could pull off for that relaxed effortless scruffy look. Y'know, shirt tactfully half tucked in, half tucked out. Tactfully scruffy. You see it all the time on Instagram. Denim shorts and quilted Chanel handbags. The OOTD of dreams.
But as it turns out I can't pull it off, really! I just look scruffy minus the tact. Hence why all the other pics, bar one, are with the shirt worn tucked in!
I wore this outfit on one of the hottest days of the year (well, there has only been 2 so far…) and I took advantage of the nice weather by having a picnic lunch and taking a long walk in the park (plus an opportunity to take outfit photos, obvs).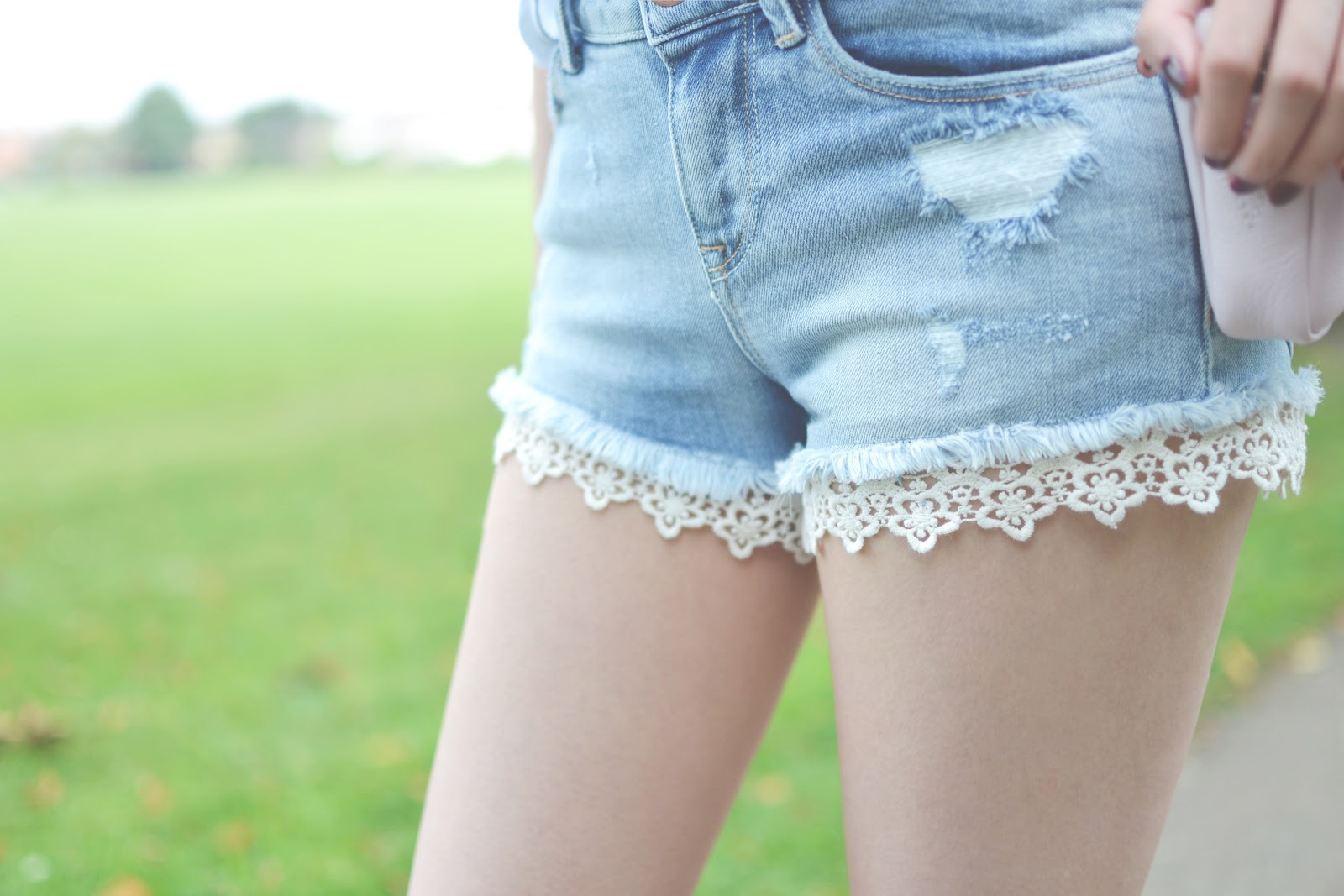 As I said at the beginning of this blogpost, I went through a phase of wearing
denim shorts
all the time, with everything –
even during winter with tights on
. It was a style that I embraced throughout college and uni and years after. But it has been a long time since I wore denim shorts. The ones I had stopped fitting me. Couldn't button them up. Sad times.
After browsing on ASOS what seemed like an eternity, I found a reasonably priced pair of denim shorts by a lovely brand called Pimkie (all shop links at the end of this blogpost).
By the time I spotted them, I had been on ASOS website for so long, I was getting square(er) eyes and my laptop was heating up so much that I thought it was going to explode, haha!
I was in such a hurry to get this order placed incase my laptop was going to blow up any minute that I didn't read the size description properly. I selected the smallest size which said EU 30 and thought this meant 30 inch waist size…
….Then, of course, the teeniest tiniest pair of shorts arrived through the post and that's when I realised that it's actually a European size 30 which is a bloomin' UK size 2 or something like that!
Back they went in exchange for a few sizes up and I'm happy again because I can wear this AND eat a double cheeseburger and a large portion of fries! YAAAAS
Outfit Details:
Denim shorts: ASOS
White linen shirt: ASOS
Choker Necklace: ASOS
Bag: Lacambra*
Fedora: Miss Selfridge (similar here)
Shoes: Keds
Check out more of my outfit and personal style blogposts here.