Benefit Cosmetics's BIGGEST Brow Collection EVER!
In May, Benefit announced that they were launching their biggest, bestest
brow collection ever
*! And they weren't kidding! When they announced it on Twitter, I excitedly followed all of their updates (well, what else am I gonna do on a Friday night?!…)
You will see that amongst the new goodies, there are some of the products you already know and love, such as Brow Zings, Gimme Brow, and the High Brow pencils. They remain the same but with the packaging design refreshed. They have extended the shade range and added more brow products to the collection so no matter the brow problem, there is something for everyone!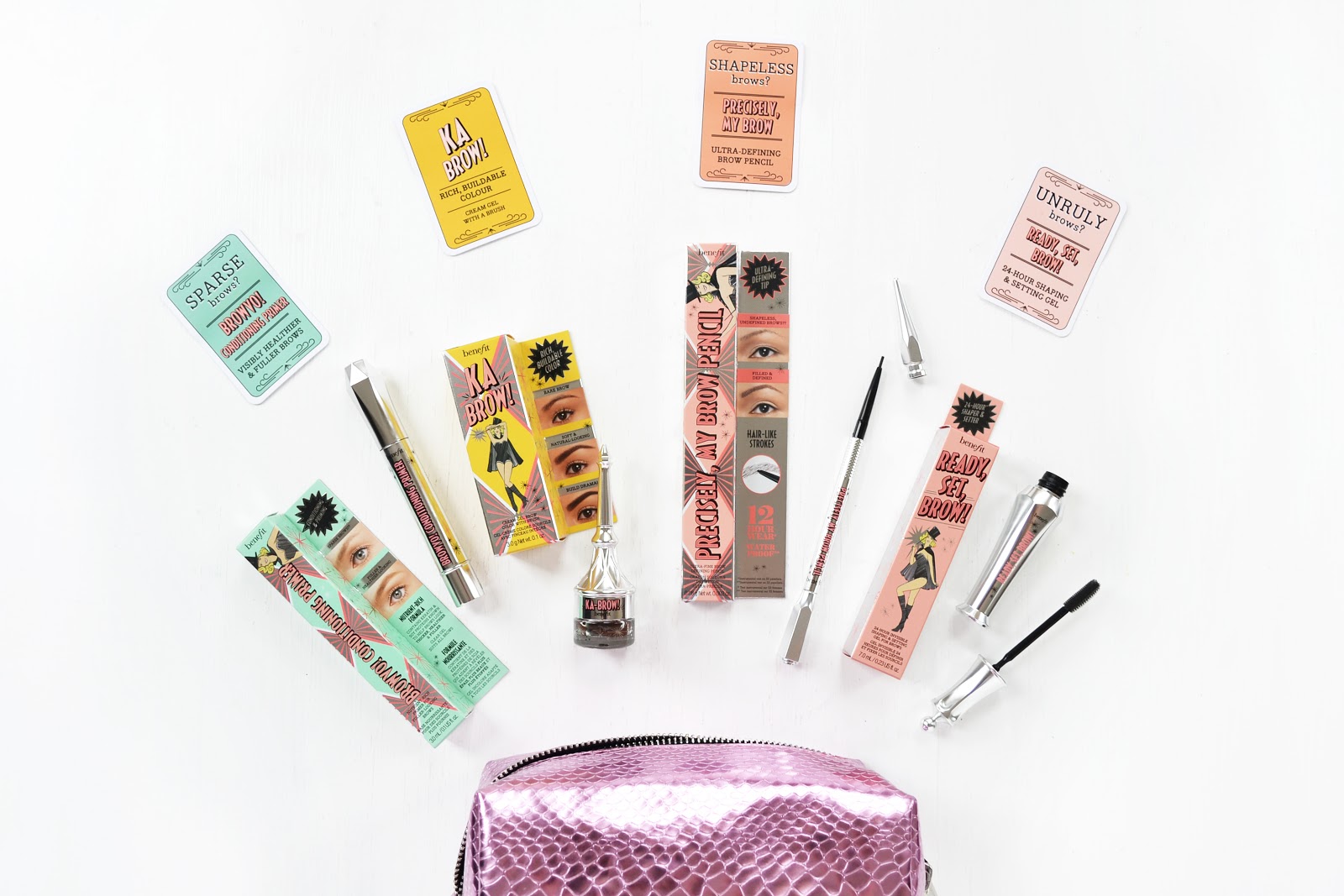 Benefit Brows: There's Something For Everyone
▶︎ For Sparse Brows: BROWVO Conditioning Primer
It's only natural to begin with a primer! So just like any other primer, Browvo is applied to brows to help your brow make-up to last longer. It has a twist-up mechanic (one click for each brow) and a soft touch brush applicator to help you coat each individual hair with the clear, transparent eyebrow gel-serum.
As it contains nutrients and keratin (which is an ingredient that helps hair grow quicker) you can use it on it's own during the night to condition your brows, which is exactly what I've been doing! I have very thin and sparse brows so I like to think that Browvo is helping me to grow them!
▶︎ Want WOW brows?: KA-BROW
Ka-Brow is a cream gel formula that comes in a pot and hard angled brush. The soft formula enables you to blend and sculpt for natural looking brows. It's easy to get carried away but for those who want a natural look, simply dip the brush in to the pot and gently wipe the excess before applying. For those who prefer a bold, dramatic brow, the gel cream is extremely pigmented and buildable!
I've heard it being compared to the ever-hyped Anastasia Dipbrow (which I have yet to try), so if you can't get hold of the that, maybe try Ka-Brow as a great and more accessible alternative? It's long-lasting and is waterproof for up to 24 hours. BONUS!
▶︎ For Shapeless Brows: PRECISELY, MY BROW PENCIL
This is an ultra-fine brow pencil to help give you hair-like strokes. I don't think you can use this pencil on its own, It's quite a hard texture, but the whole point is so that you can outline your brow with precision or draw in small strokes. There is a spool on the end to help you blend and blur the harsh lines.
▶︎ For Unruly Brows: READY, SET, BROW
You can use this fast-drying, clear gel on it's own to tame your brows or over your brow make-up to lock it in and set it in place. I do like using a product like this but it's not often an essential for me as it does very little. But those with thick, bushy, unruly brows will benefit from Ready, Set, Brow.
▶︎ Goof Proof Brow Pencil
Here is Goof Proof in-action! It is my new favourite and the only eyebrow pencil I've ever got on with! I thought it would be quite a hard consistency like Precisely, My Brow Pencil, but it is slightly softer and therefore glides on to skin/brow hair with ease. It feels more like a crayon than a pencil, and you can soften it up with the spoolie on the other end. As you can see in the inset, the tip of pencil is tear-shaped angled tip which is what makes the application so quick and simple!
▶︎ For Dull Brows: 3D-BROWTONES
I haven't quite figured this one out yet, I don't think I have enough brows to benefit from 3D-Browtones, but Benefit describes it as an instant colour highlighter! Lisa from Benefit said on her YouTube video that it acts as a hi-light/lo-light on your brows. It has a really subtle metallic shimmery sheen which sticks to hair to enhance them and make them appear shinier and healthier.
▶︎ For Un-Groomed Brows: BROW ZINGS
This is the classic you all know and love. The formula hasn't changed, so don't worry! It now comes in 6 shades (3 more than before) so hopefully you can all find a shade that suits you perfectly. For those that are not familiar with Brow Zings, it's the UK's best selling brow palette and the compact comes with a powder, a pigmented wax, a pair of tweezers and a brush.
Use the soft pigmented wax to tame the hairs, and then fill in sparse areas with the powder. It's as easy as that!
▶︎ Need A Lift? Try The HIGH BROW PENCILS!
I said at the beginning of the blogpost that the classic Benefit brow products remain the same in formula. That is true… apart from High Brow and High Brow Glow pencils! They new and improved formula are creamier making it more blendable than ever.
High Brow is a matte linen-pink and High Brow Glow is a champagne pink with a pearlescent finish that's similar to High Beam. Used on the brow bone, the highlighting pencils give a 'lifted' appearance and brightening effect around the eye area.
▶︎ For Thin, Skimpy Brows: GIMME BROW
Last but certainly not least, Gimme Brow has been on everyone lips (and brows!) since it launched. And I've now noticed a few copy cat products flying around. Such is the power of Benefit, everyone wants to be just like them! But nothing beats the award-winning, original thing.
Gimme Brow is a volumising fiber gel and works like magic to mimic the appearance of hair. The fibers adheres to skin and hair to give a thicker, fuller look. A secret top tip is to, first of all, apply Gimme Brow inwards towards your nose so that you're brushing against the natural direction of the hair. And then brush it back the other way to neaten up! As preference, I like to use this after I've penciled in my brows but this can be used on it's own to fill in areas which look a bit thin.
You can check out the full brow collection at Benefit beauty counters and online. Prices as shown on the
Benefit website
.