So, when I heard that Benefit was launching their biggest ever brow collection, I wondered what more could they add to it? What secret things do they have up their sleeves?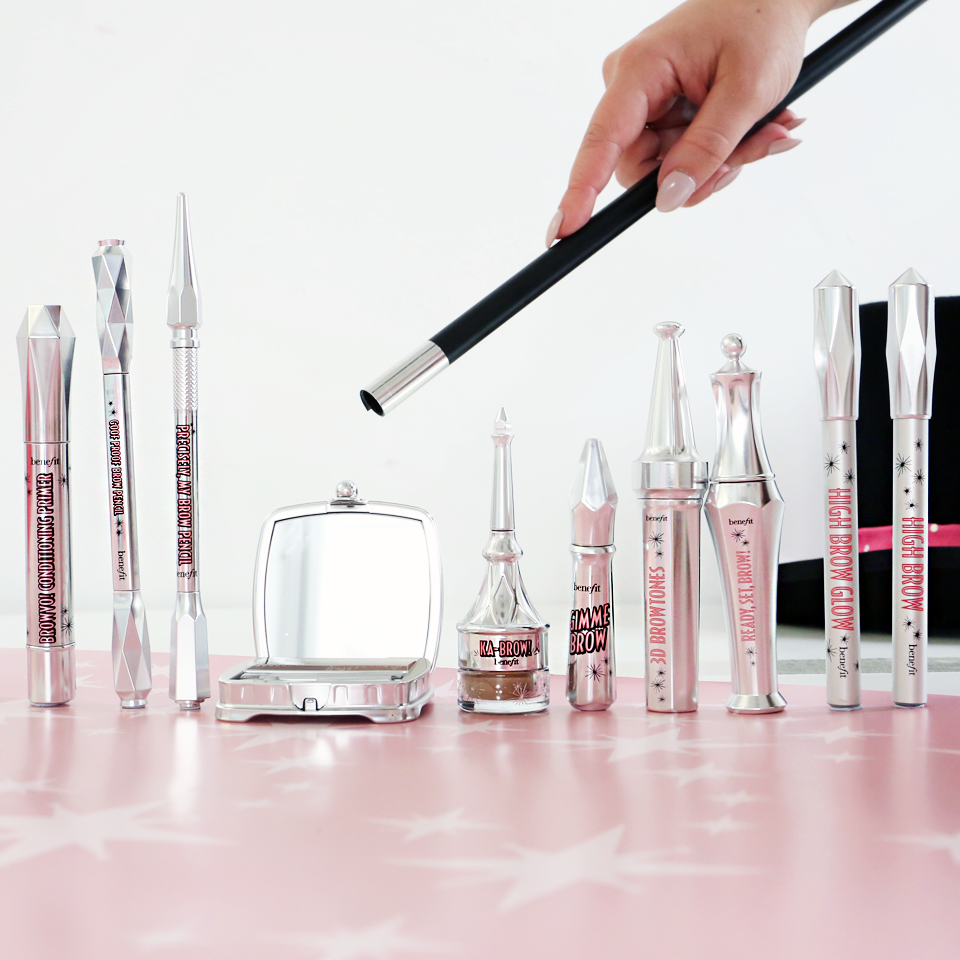 Benefit have just revealed their biggest launch ever where you will see some cult classics that have been repackaged and 6 completely brand new products. With some of them available in 6 shades, it looks like there's going to be something for everyone. No matter your hair colour or brow problems, for that matter!
THE NEW BENEFIT BROW PRODUCTS
3D BROWTONES
Let's start with the one that only comes in two colours; a lo-light and a hi-light. Adhering to the hairs, 3D BROWTONES will give your brows a healthier sheen. It's going to be one of those innovative Benefit products you didn't know you needed. They have a habit of doing that, don't they?
GOOF PROOF BROW PENCIL
An easy-to-use, fool-proof (or goof proof!) eye brow pencil that comes in 6 shades. I have dabbled in eyebrow pencils but have always found them too harsh, but this ones claims to glide on effortless. The angled tip with a wide flat base tip may JUST be the secret to achieving softer, natural looking brow with a pencil! We shall see!
PRECISELY, MY BROW PENCIL
This is a super ultra fine tipped brow pencil that gives you hair-like strokes and ultra precision. One end has the pencil and the other end has a spoolie to blend.
KA BROW!
This is the one I really can't wait to try! I hope it's as great as it sounds, which I'm sure it is! It's a cream-gel formula with a rich, buildable colour. It offers a 24 hour wear and it's waterproof. Like the other brow products, you can apply as little or as much as you like depending on whether you like a natural or a bold brow. This sounds like a future best-seller, can't wait to buy one!
BROWVO CONDITIONING PRIMER
As well as brows, Benefit knows all about priming! It never occurred to me before to use a primer on my brows – but here we are! It contains keratin to condition your brow so you can use this at night and let it works it magic while you sleep. Otherwise, you can use BrowVo under any brow product you like. BrowVo is transparent and has no colour to it.
READY, SET, BROW
Ready Set Brow is a fast-drying, transparent setting gel, to tame those pesky stray ones and put them in their place! If it's anything like their Speed Brow (without the tint) then I'm happy!
THE CLASSICS
GIMME BROW. BROW ZINGS. & HIGH BROW.
Ah, the classics! These are the products that Benefit fans all love and they're not going anywhere! All of your favourites have been repackaged to align with the rest of the collection's design. And don't worry, the formula hasn't changed apart from High Brow which has been improved to become more bendable.
A quick run down of the classics:
Gimme Brow
is a brow volumising that adheres fibre gel to your hair and skin. It now comes in an medium shade as well as light and dark.
Brow Zings
is the UK's best selling brow palette and I am glad to see the packaging redesigned. I love seeing something different and this will stand out amongst the rest of your brow palettes, I bet!
High Brow and High Brow Glow are a favourite of mine. It is back with a more creamier, more blendable formula!
Benefit's new brow collection
is launching on 24th June which sounds like ages away but I bet we will have these in our hands (and on our dressing table) before we know it! Prices will range from £18.50 to £24.50.
(Image credit: Benefit Cosmetics)