I love it when popular beauty products make it to the UK! It's time to get excited, beauty fans, for American's No.1* selling perfume body sprays, Body Fantasies, is launching in the UK! Arriving in Superdrug stores and online from February, Body Fantasies are developed by leading designer-fragrance perfumers with a higher concentration of fragrance oils that last longer on the skin than other high street body sprays.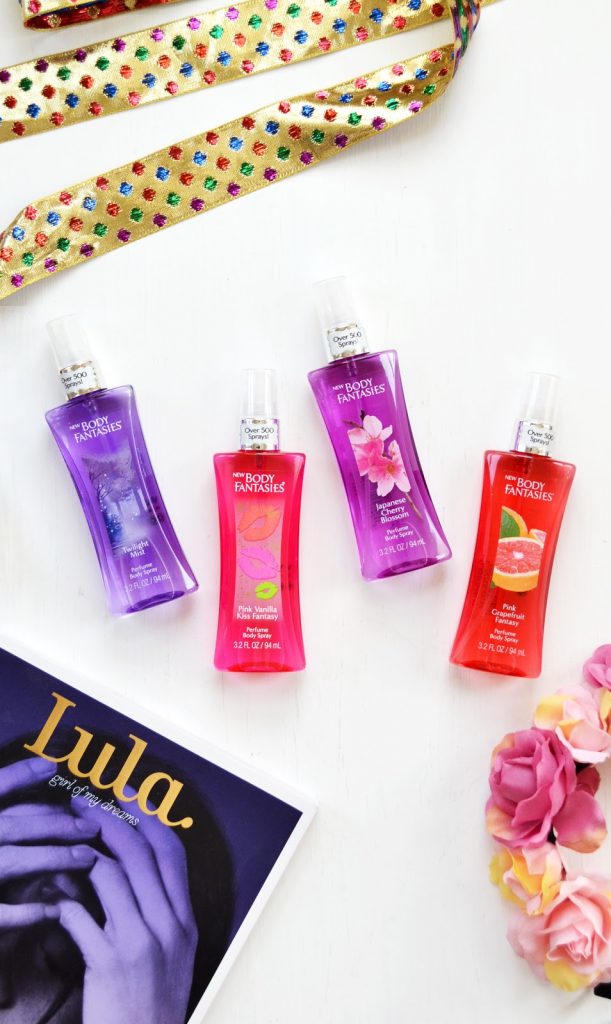 BODY FANTASIES LAUNCHING IN THE UK
They are launching the initial UK collection with four fragrances; Pink Grapefruit Fantasy, Japanese Cherry Blossom, Pink Vanilla Kiss Fantasy and Twilight Mist. Each 94ml (94… very specific…) will give over 500 use of sprays.
When I first saw an image of them on social media, I thought they were going to be big bottles. I thought they resembled Herbal Essences jewel toned packaging, so I immediately likened the body sprays to the size of a small bottle of shampoo. When they arrived, I was happy to see that they are handbag sized, light and easy to carry around! I don't know why I would think that a bottle of body spray would be as big as a bottle of shampoo!!
Priced at an affordable £3.99, it's a great price for a good quality body spray. I don't expect a fragrance that's priced under £5 to last all day long, but Body Fantasies does seem to last at least 2 hours on skin which is longer than the other
body sprays
I've used in the past.
I think that the brand is vibrant and lot of fun and their fragrances reflect that. I would describe it as a more affordable version of Victoria Secret's body mists in the way the smell. And how do they smell? Here's the low down on each of the four Body Fantasies body perfume spray fragrances:
Pink Grapefruit Fantasy
This is the refreshing, fruit fragrance you would expect. Upon freshly spraying on to skin, you'll notice the top notes of citrusy pink grapefruit, followed by a dry down scent of a sweeter, warmer pomegranate, white musk and vanilla. A great choice for anyone who likes a fruity, zingy scent.
Japanese Cherry Blossom
This has more of a 'traditional' grown up, seductive perfume scent with a floral and feminine aroma. It has oriental notes of cherry blossom, rose and amber.
Pink Vanilla Kiss Fantasy
I love sweet scented sprays so this is my favourite. It's playful, and more on the young and girly side but I love a sweet, vanilla-ry body spray! Pink Vanilla Kiss Fantasy has notes of juicy peach, berries and soft florals. Apparently there's a base note of woods and musk but I can't detect that but I guess that's what makes it a balanced and beautiful fragrance that is suitable for everyone.
Twilight Mist
It's probably because of the name but I think this is more of an evening spray. Not that I would subsitute a parfum for a body spray for nights out and evening occasions. Maybe for a cinema date with the BFF or something like that? Anyway, it's a lovely and pretty fragrance of mandarin, magnolia and sandalwood.
Body Fantasies Perfume Body Sprays, priced £3.99, will be available in Superdrug online and in-store from February 2016.
Which fragrance do you think you will go for?
America's No1 Best Selling* Perfume Spray – *Source: Nielsen data x AOC 52 weeks PE 28.11.15