Birchbox has put the excitement back in to beauty sample boxes! I think many of us have become jaded by them but every single Birchbox that I've received this year has been a collaborative themed edition with a beautifully designed box that makes it extra exciting and special.
For the
June 2015 edition, Birchbox
* has teamed up with shoe brand, French Sole. The theme surrounds 'Stepping Outside' for Summer with beauty products to help you to prepare and be confident for the new season. There are 5 beauty samples and 2 lifestyle products in the June Birchbox.
This is a tinted lip balm packed with shea butter and Vitamin E to nourish and moisturise. I got it in shade Ripe Raspberry which is a fuchsia pink.
I swatched it on the back of my hand but the colour came out very sheer so I applied it straight to my lips expecting it to be the same. But the pigment showed up more vibrant on my lips, I was pleasantly surprised!
The tip of the bullet is completely flat and the balm itself is quite solid which makes it very difficult to apply with precision, but it is a moisturising formula. I love a tinted lip balm for Summer!
Penhaligon's perfumes are so beautiful and luxurious! Iris Prima is an elegant fragrance with notes of fresh bergamot, musky sandalwood and sweet vanilla. The inspiration behind the fragrance are prima ballerinas at ballet. I never used to like perfume vial samples but now I don't mind them because when I'm out of town, I prefer to pack them in my bag or travel case instead of a clunky, chunky, full sized bottle of perfume.
These are so trendy and I've been wanting to buy some! I think that metallic temporary tattoos look great and are perfect for summer, and the festival season! You can apply them on to your nails as well as skin.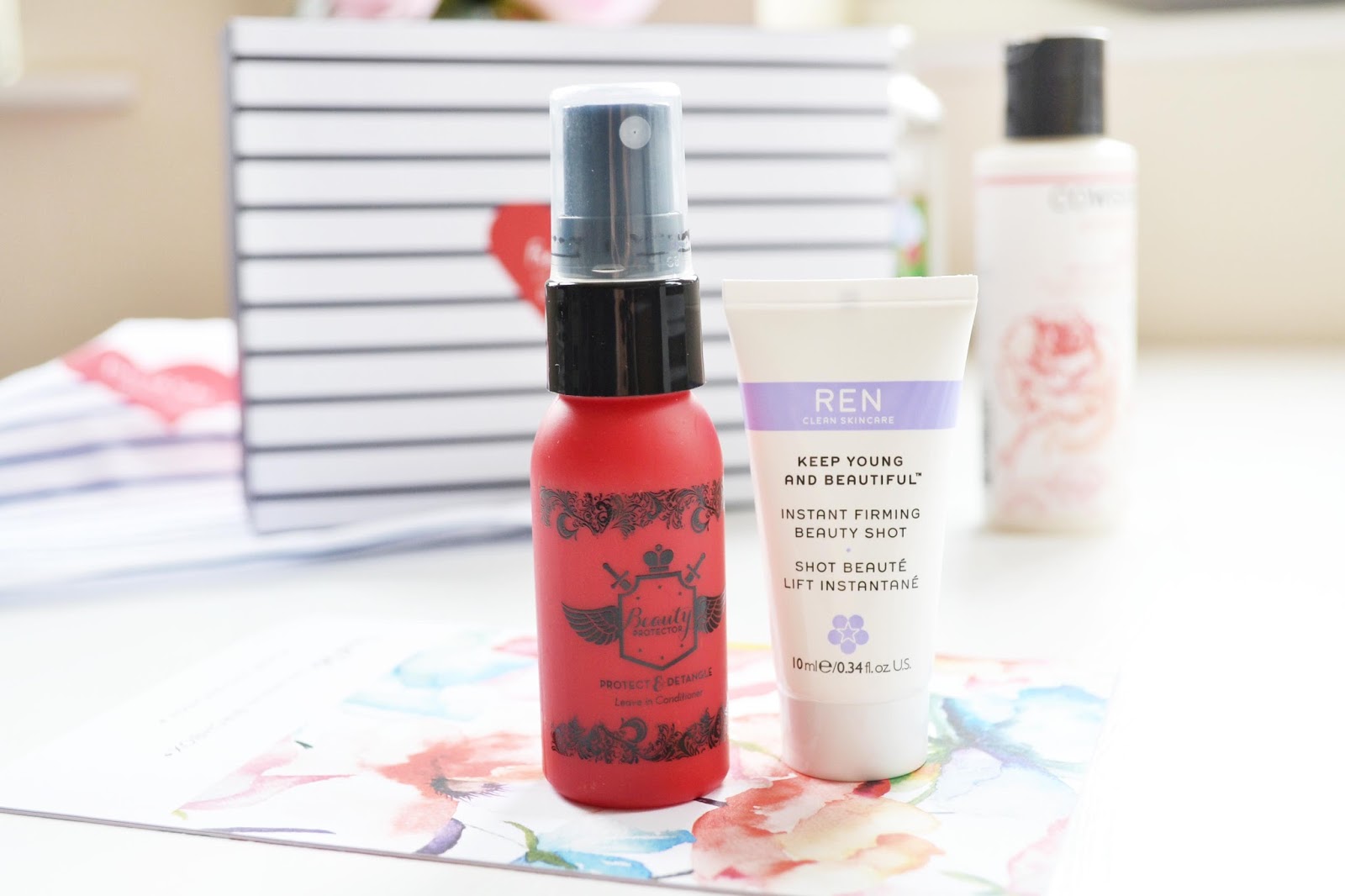 Something what happens with these beauty box subscriptions is that you'll receive a repeat item from time to time. I think this is the 3rd or 4th time that I've received this Protect and Detangle from Birchbox but with this product, I don't mind, because I actually really really like it! It smells sweet like candyfloss and bubblegum, and it does a great job of detangling my long hair as well as protecting it from heat.
The name of this product is a bit of a mouthful, but basically, it's a gel serum that lifts, firms and awakens skin. It can be used under or over make up for plumper, hydrated skin. I really like REN skincare so I can't wait to use this. As you only need 2 or 3 drops a time, I reckon this decent sample will last two weeks.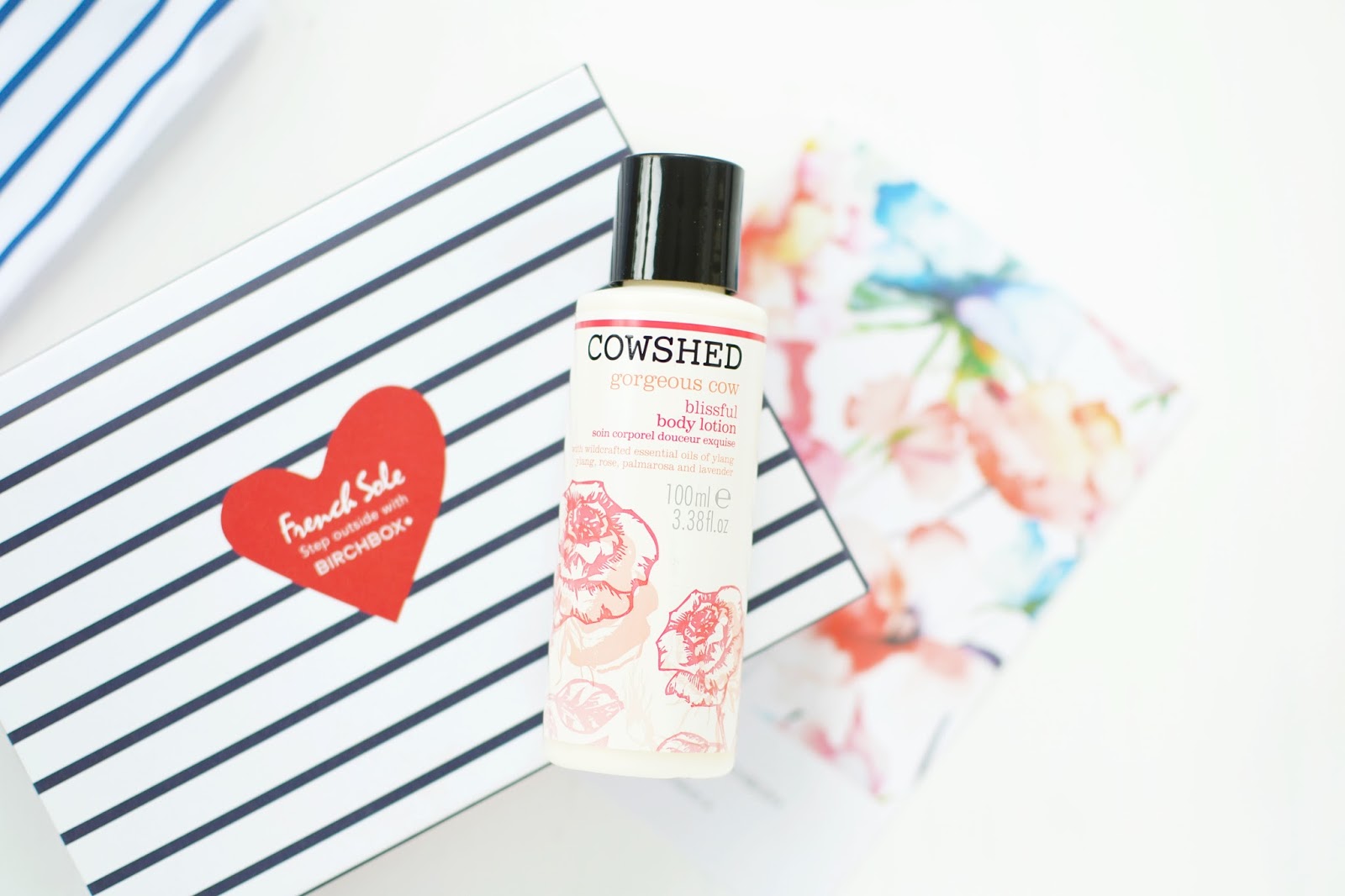 You can never have too many body lotions, they're a beauty essential all year round. I've never used anything from Cowshed before so I'm happy to see this in the new Birchbox. It's a soothing, luxurious blend of essential oils – Madagascan ylang ylang, Bulgarian rose and Indian palmarosa oil and French lavender.
This month also contains a sdrawstring torage bag which you could store your shoes in, or make-up!
Birchbox is a monthly beauty subscription box. It cost £10 (plus £2.95) per month and you can
sign up here
.