£28.50
DO THE HOOLA KIT FROM BENEFIT COSMETICS
Do The Hoola is a 5 piece kit containing luxe sized products. It comes in a really cute box that has the Hoola branding all over it, which Benefit fans will recognise immediately. On the back of the packaging pictured above, you might have spotted a brand new yet-to-be-released, Hoola Liquid Bronzer, but more on that in a bit!
I love the miniature versions of Benefit products, they're so cute! It is a nice little kit that you can take on your travels as a whole pack, or you can just to take a couple of items from it to put into your handbag on nights out, they won't take up much space at all!
The kit contains:
Dew The Hoola (exclusive)
Hoola Ultra Plush Lip Gloss
Hoola Bronzer Powder (and a miniature brush)
They're Real Mascara
BeneBalm
Three out of the five products in Do The Hoola are my make-up stapes; I use They're Real Mascara,
BeneBalm
and
Hoola
all the time. I do have the Hoola lipgloss already but I don't use lipglosses a lot.
I think that the product you're all interested in is Dew The Hoola which is a liquid bronzer. Dew The Hoola is brand new, and will be launching in 2016 but you can try it for the first time when you buy this kit.
On the back of the bottle, Dew The Hoola is described as a sheer soft-matte face bronzer in a liquid form. Because of the product name, I immediately thought it might have a dewy finish but it doesn't at all – at least not on my skin anyway! It is indeed exactly what it says it is; a sheer soft-matte liquid bronzer.
From my photograph, it looks really orange in the unblended swatch but once it has been blended in to skin, it looks nice and natural. So natural, in fact, that it didn't show up on camera properly. One layer gives a subtle hint of colour similar to that of a tinted moisturiser but two layers of it gives my face a noticeable "tan". Dew The Hoola can be used to contour too but for ease, I much prefer to use this liquid bronzer all over my face for an even balance of colour.
It has a slight fragrance to it that reminds you of being on a Summer holiday, a bit like a sun lotion except not as strong. The scent isn't strong and it subsides very quickly.
A liquid Hoola is a great idea, especially if your skin verges on to the dry side and you prefer to use a liquid instead of a powder. I hope the full size version comes with an SPF option, that would be a bonus but I'm not sure if I'll be buying the full size version of Dew The Hoola when it is released in 2016. That's only because I love the powder so much, it's so easy to use and I don't feel like I need an alternative!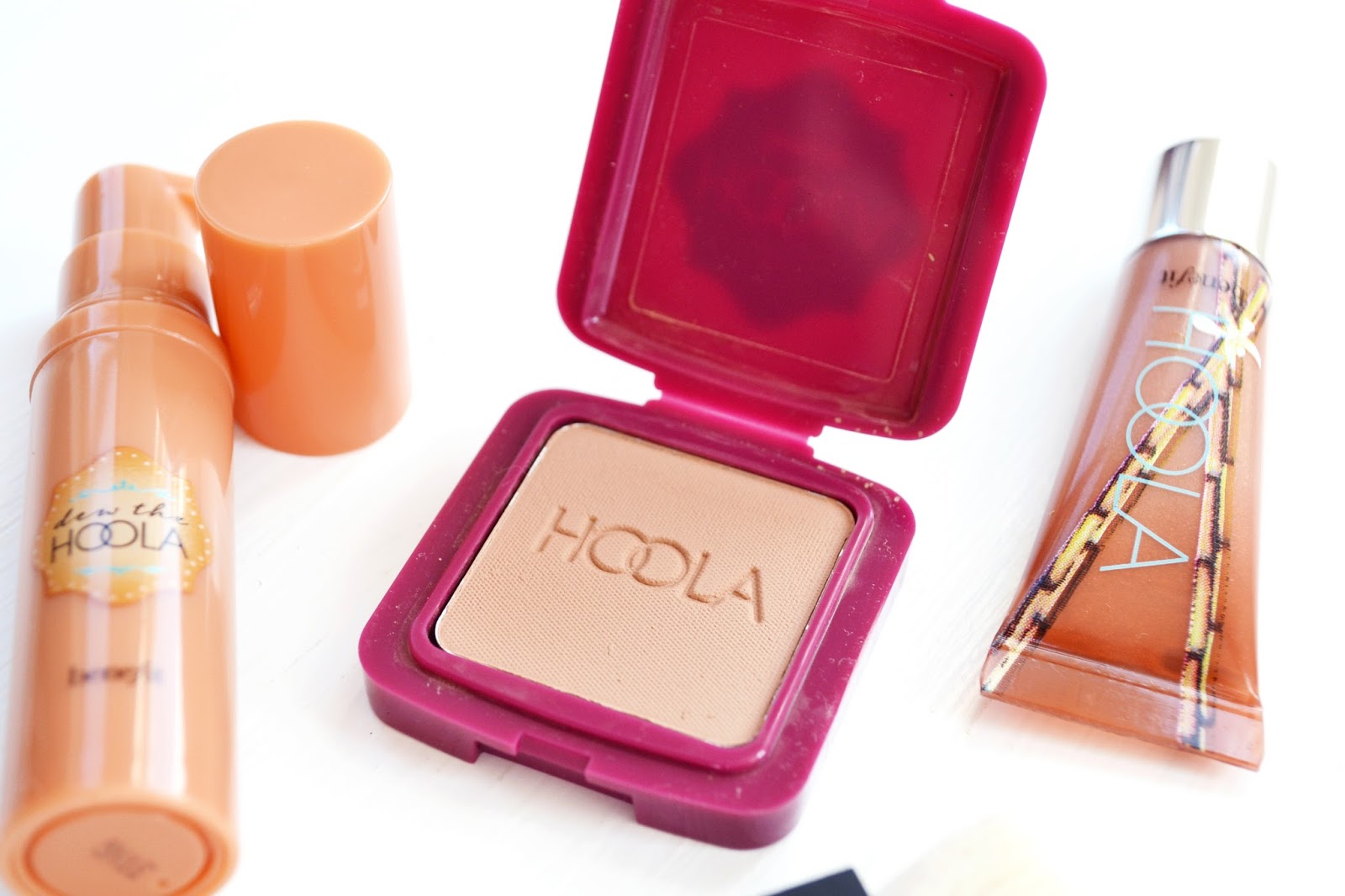 The full sized version of Hoola comes in a box, which is very bulky so it's nice to have one that is so compact, it literally fits in to your pocket and you won't even know it's there! It doesn't look like you get a lot of product, it is the size of an eye shadow but it will last for ages, it's always takes me a long time to hit the pan on Benefit powders!
Are you a fan of Benefit's Hoola? Will you be adding
Do The Hoola
to your beauty wishlist?