Graphics, Illustration and Screen Printed Clothing from Hero&Cape
Sometimes, when I've worked so hard on something, I find it really difficult to talk about it on the blog because it's scary to put yourself out there incase people criticise it. I'm all for constructive criticism from people I work with because I kind of thrive on that type of feedback in order to improve, it drives me. We're all in it together and only want the best for each other.
But outside of that working environment, I feel that personally, if I've got the choice, I need a cooling off period after a project has been signed off (and probably launched for months) before I'm comfortable enough in talking about it to other people.
You see, I treat all projects (no matter the size. Size doesn't matter…) like a baby and when you're in the zone, it can take a long time before I can take a step back and "de-sensitise" from it. I blogged very briefly about the time we spent in
Manchester shooting Hero&Cape's A/W lookbook
, these were just quick behind-the-scenes photos I took on set.
I ended that very blogpost by saying that I'd share the lookbook images and I have been meaning to blog about it and give an insight on what goes on at a photoshoot with an independent clothing brand.
…But I kept putting it off! Partly because I like to keep blogging and working separate, but also because of the factors mentioned above. We're actually about to work on next season's collection (which I'm really excited about!) and I've only just got round to doing this blog post about A/W!!
But it's fine… it's still Winter and these photos are still part of their current campaign!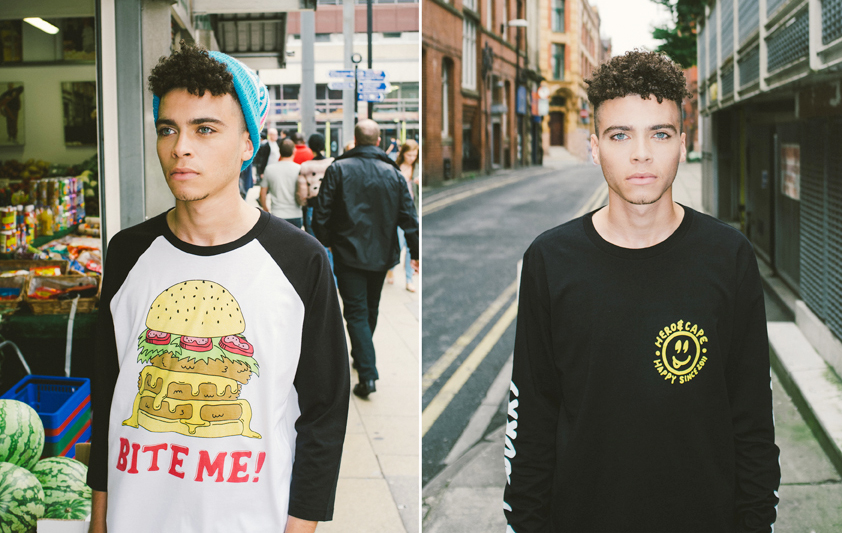 Some people know that I used to run my own online shop and might mistake in thinking that Hero&Cape is my new venture, but it isn't mine. I can't take any of the credit here.
Hero & Cape are a British streetwear clothing company with a strong focus on traditional printing and quirky illustrations, and I work for them on a freelance basis, usually before they launch a new collection.
We always take on a new challenge (or risk) with each one and it almost always pays off. This time, we left it in the hands of a bunch of fashion bloggers and it paid off. Although I was nervous about it, I had no doubts in my mind that we would end up with good results!
The AW lookbook is shot in Manchester City Centre, which I've grown to love more and more! Our photographer was fahsion blogger, Jefferson, who blogs at
Schoolboy Couture
. We also had two models as the face of the campaign, one of them is a blogger at
Five Foot Four Fashion
, and the other has been in music videos with the likes of Jess Glynne, Lily Allen and Union J.
We had a lovely make up artist, Lucy, who did an amazing job! All of them were amazing to work with! And then I did shot and edited the
video
and all of the social media bits and bobs for it. With it being a small company, we had a lot of freedom in the creative direction but we all worked all day as part of a team to achieve the best results as possible.
As written in one of
Hero&Cape's blog updates,
everyone took a leap of faith and the hard work paid off! If you or you know of anyone who would like to front our future collections, please feel free to get in touch.
There are two photoshoots per year and we are always looking for fresh looking models, make-up artists, photographers, stylists and anyone who wants to be behind the scenes for work experience. These are paid opportunities, so if you'd like to work with us in the future, please do not hesitate
email in
and to introduce yourselves!
The guys at Hero&Cape have also
collaborated with TruffleShuffle
which is pretty exciting! The capsule collection is exclusive to TruffleShuffle and the t-shirts was inspired pop culture we loved as kids in the 90's so some of them will bring back memories! I particularly love the Kenan & Kel Orange Soda t-shirt, it's brilliant and makes me laugh every time I see it!
Finally, a little heads up for those who might be interested in some of the tees, there may be a flash sale next week for one day only. But follow Hero&Cape's on
Twitter
and
Instagram
because it will be announced on there!