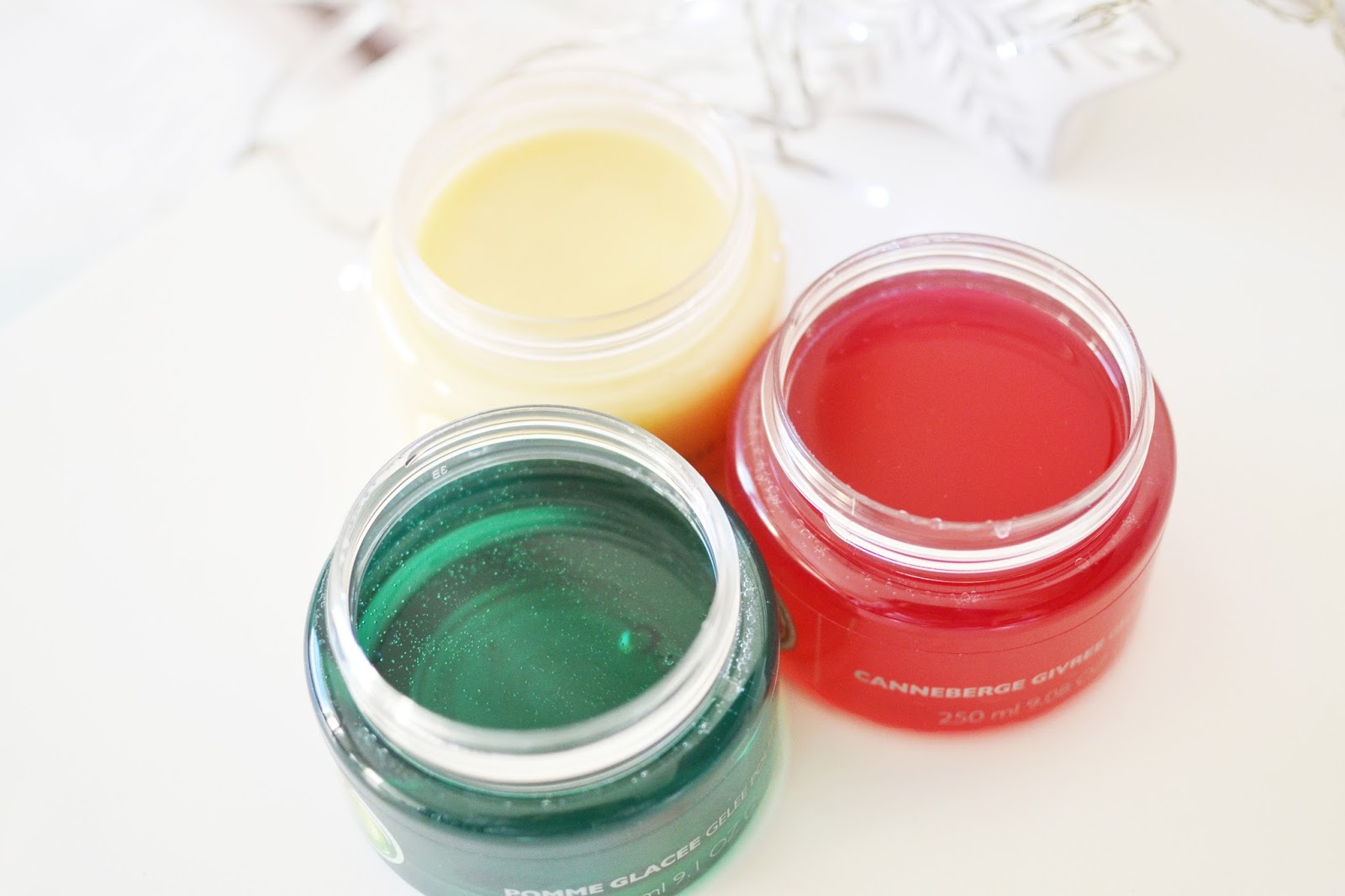 £10.00 each (250ml)
I think I have a new favourite product at
The Body Shop
. Move over body butters, I'm all about the bath jellies now! I'm really drawn to all things jelly; I love the glossiness, the wobbly, bouncy texture and it's something a bit different for pamper time!
I blogged about
The Body Shop Christmas range
when they were launched, and after learning more about the collection, I knew I had to put a couple of the items on my Christmas list this year, in particular the Glazed Apple Bath Jelly! Honestly, blogging is killing my bank account, I just want to buy everything I read about but actually won this via Twitter which was super nice surprise. I wasn't expecting to win anything, I tweeted The Body Shop as a way of engaging with them and they tweeted back to inform me that I had won a set! What a bonus! There are many Christmas campaigns and festive giveaways on social media at the moment, keep your eyes peeled and get involved with the fun because you never know, your Christmas wish could come true!
After using the bath jellies every day since they arrived, I can see some comparison to luxury item
Laura Mercier Honey Bath
, in particular the Vanilla Brulee. The Laura Mercier ones are thick in consistency, it's more like honey than it is a jelly but when I first spotted these at The Body Shop, I did wonder if it could be passed off as a cheaper alternative. Although at £10 a tub, The Body Shop Bath Jelly definitely still counts as luxury item in my eyes! It comes with a miniature wooden spatula and with it, you add 2-3 scoops to your bath, or run the spatula under warm water and it melts to create the perfect amount of bubbles. I find two scoops not enough bubbles so always make it three. It makes the bathroom smell lovely too!
It is available in Glazed Apple, Vanilla Brulee and Frosted Cranberry which are the three major fragrances in this year's seasonal range at The Body Shop. It's tough to pick a favourite but I dug into the Glazed Apple one straight away! It really caught my eye when I was browsing in the shop, but if you're not keen on fruity body products, the Vanilla Brulee is a really nice option. At first, I didn't take much notice as I thought it might smell quite bland and boring, but it's actually sweet and smells like ice cream! Soooooo good!
As they are part of the Christmas range, I'm not sure if they will be sticking around for much longer. I really hope that The Body Shop will keep the bath jellies within their product range and bring bath jellies out in their usual fruity fragrances, that would be amazing!