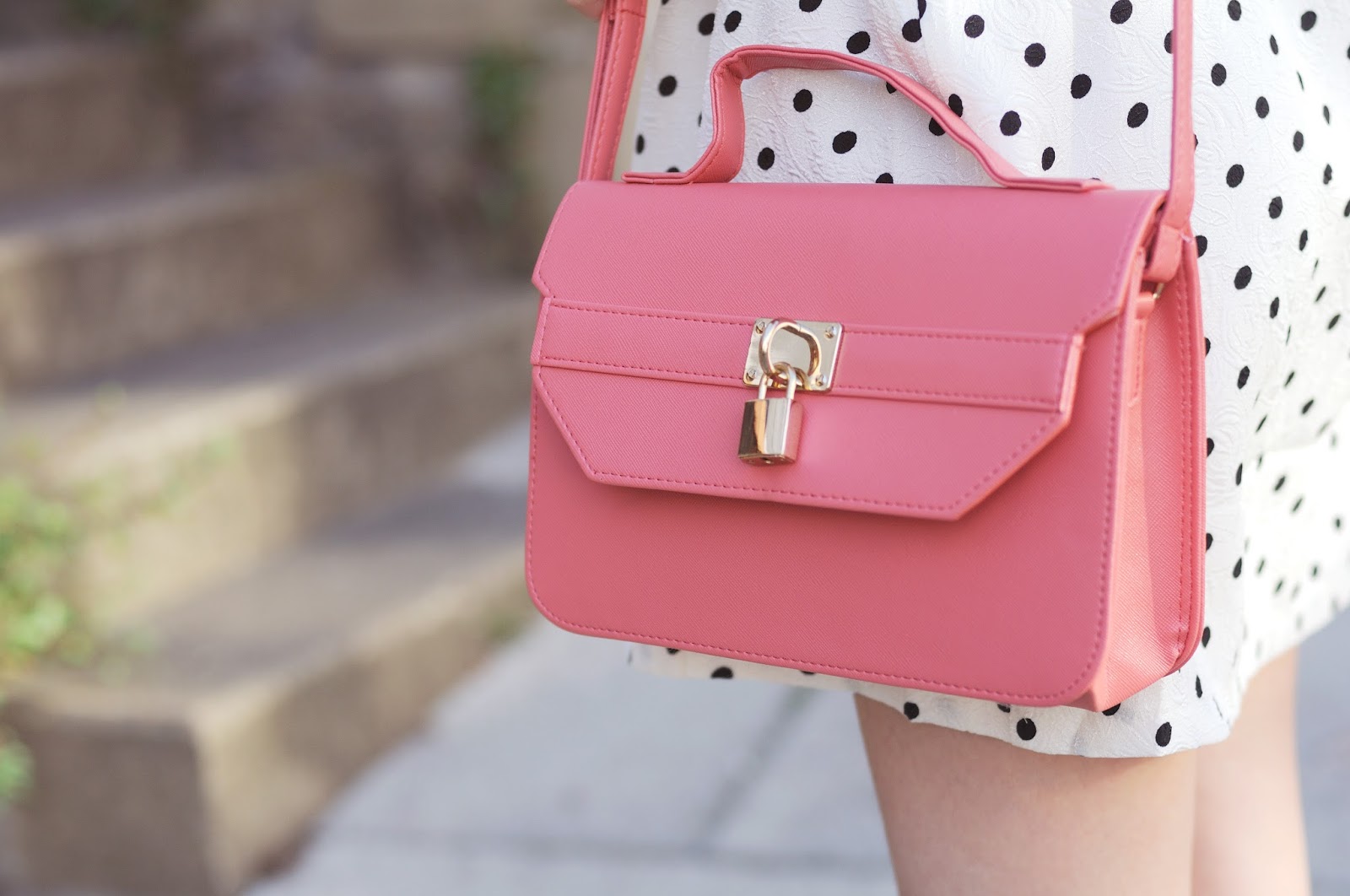 Oh, hello! What's this?….An outfit post?! Bit of an awkward turtle getting these photos taken in my home town but it made me realise how out of touch I am with fashion and style blogging at the moment!
The
polka dot dress
I'm wearing looks slightly different to what it does on the Little Mistress site. It a shift dress which looks gorgeous on the model, and whilst the length of the dress falls flatteringly above the knee for her, it falls right down past mine, making me look frumpy and extremely short, even with heels. With a bit of styling trickery, I put a belt around my waist and just shuffled the fabric up a bit so that it's the right length on me. I tend to do this with a lot of my dresses (or I just cut the hem myself and sew it up.) I realised that this doesn't quite work as well as I wanted because there the zip on back of the dress gets in the way so this sticks out when the dress is bagged up from the belt. It's a such a PRETTY dress though, and the ruffled sleeves are really adorable, not to mention that polka dots are just the one! It also comes in reverse colours too (
black with white polkadots
), I just wish I could just wear it as normal without the belt. I'd say that if you're 5ft 4 and over, this would be a gorgeous dress on you as it would be the perfect length. The only shop I can buy from where I don't have to adjust or amend the clothes is from Topshop petite range, their lengths are just right for me! Glamorous Clothing is another brand that fits quite well too!
With an outfit this girly, I just had to accessorise a little pink bag from Accessoryo and if you like colourful bag at affordable prices,
Accessoryo
is your next virtual stop! In fact, come to think of it, all of my accessories here are pink! My watch is
Olivia Burton from Twisted Time
has a dusty pink leather strap, and my
name bracelet from Zazzy
has a purply pink band. I love personalised items like this! Zazzy are based in Amsterdam and their delivery takes 2 weeks. You can create your own design and have anything written on the bracelet, it doesn't have to be a name and it cost 19.99 Euros which currently converts to £15.95 at the current exchange rate. Finally, the footwear I went for was a pair of shiny mock croc ballet pumps! Can't go wrong with the plain old ballet pumps!
Social Media Links