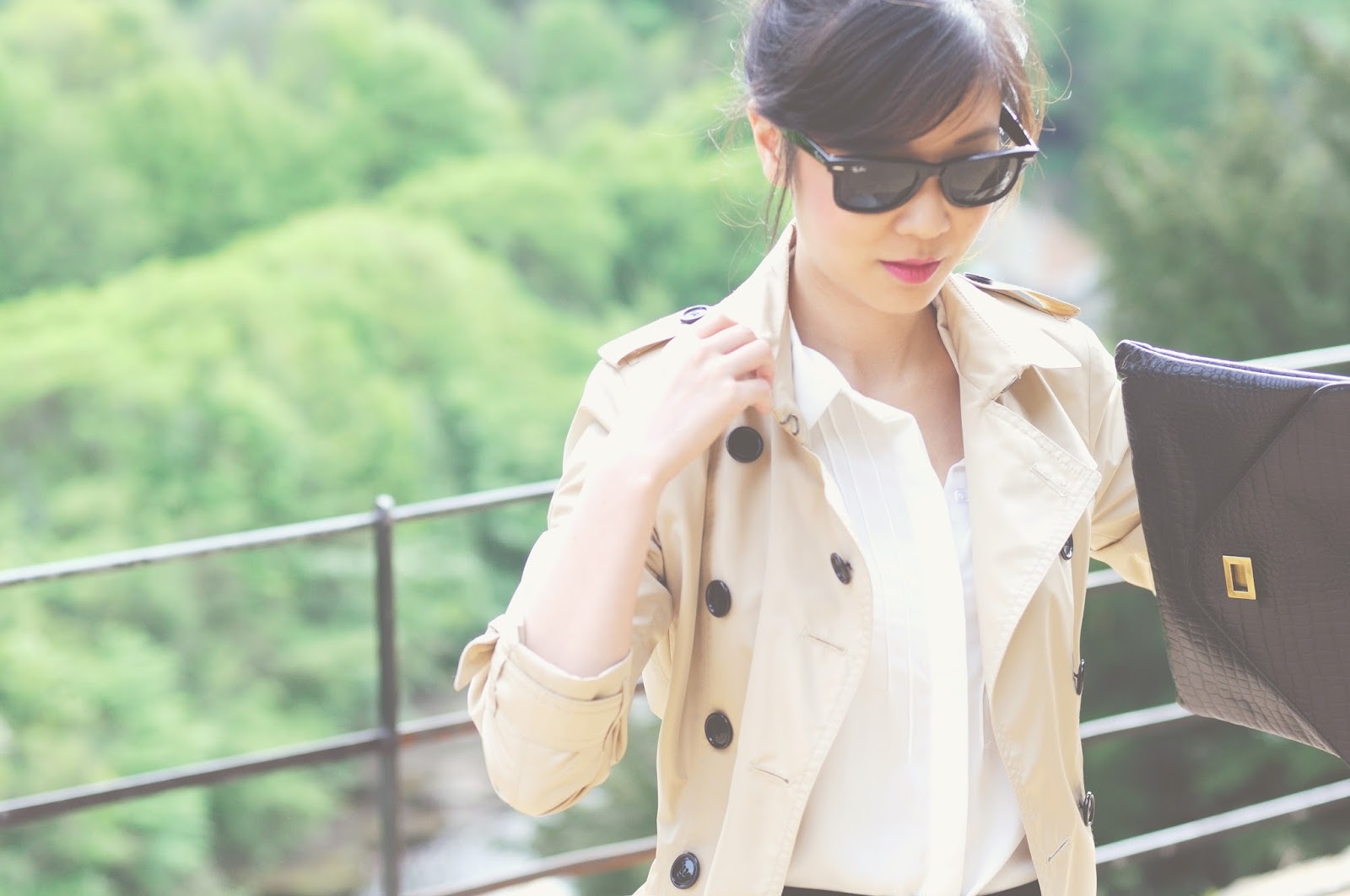 Everyone has a certain style or a favourite outfit that gives them the most confidence and for me, this is it. It's just a simple outfit consisting of a crisp, clean white blouse and smart black shorts (and I know it looks a bit like a waitress uniform) but it's what I feel most comfortable and confident in. It's unfussy and laid-back, and the addition of the beige trench coat transforms the casual outfit into something more chic. I know that on a day like today when the sun is beaming, the last thing you're thinking about is grabbing a coat, but let's not forget what our British Summer is like, though! It's raining next week! (Lets hope the forecast is wrong!) This trench coat isn't bulky at all and it's made from a very thin and light weight material. It is from Italian designer, Antonio Croce. It's now the most expensive item of clothing I have in my wardrobe, and it's easy to see why I've fallen in love with it! I absolutely adore it! I have another
beige trench coat
which is from Miss Selfridge but it's not quite like this one!
I am really particular about coats being a certain length but I was told that because it is an Italian designer, the coat would come up small and I'm delighted that it does indeed fit like a glove! It has even made me look taller than I am! The coat, which also comes in lots of different colours, is on a FLASH SALE on Vente Privee for a limited time only.
If you haven't heard of
Vente Privee
, it is a website that brings you the best deals and HUGE discounts on designer fashion and luxury brands up to 70% off retail price. The
trench coat
WAS £698 but is now reduced to £169, and I've had a look on Vente Privee today, some of the designs are reduced to £85 which is a match for high street coats/jacket prices! If you like shopping in Designer outlets, I would recommend checking out Vente Privee. Current brands that are having a sale on there include Calvin Klein Home, D&G, JustCavalli, Wonderbra, Valentino and a bunch of posh kitchenware brands! They've got a sale on Nike Golf coming up and as my parents are both very keen golfers, I'll have to alert them about that!
Social Media Links