How To Wear: Midi Skirt for Petite Girls (Under 5ft3)
Some people might say that "petite" girls (a nice word for "short") should stay away mid or full length skirts or dresses, and there was a time when I would listen. I think a couple of years ago, I even said on my blog that I only wear things above the knee but I've always thought that both midi and maxi's are really gorgeous and elegant, and I spent some time wishing I could look good in either.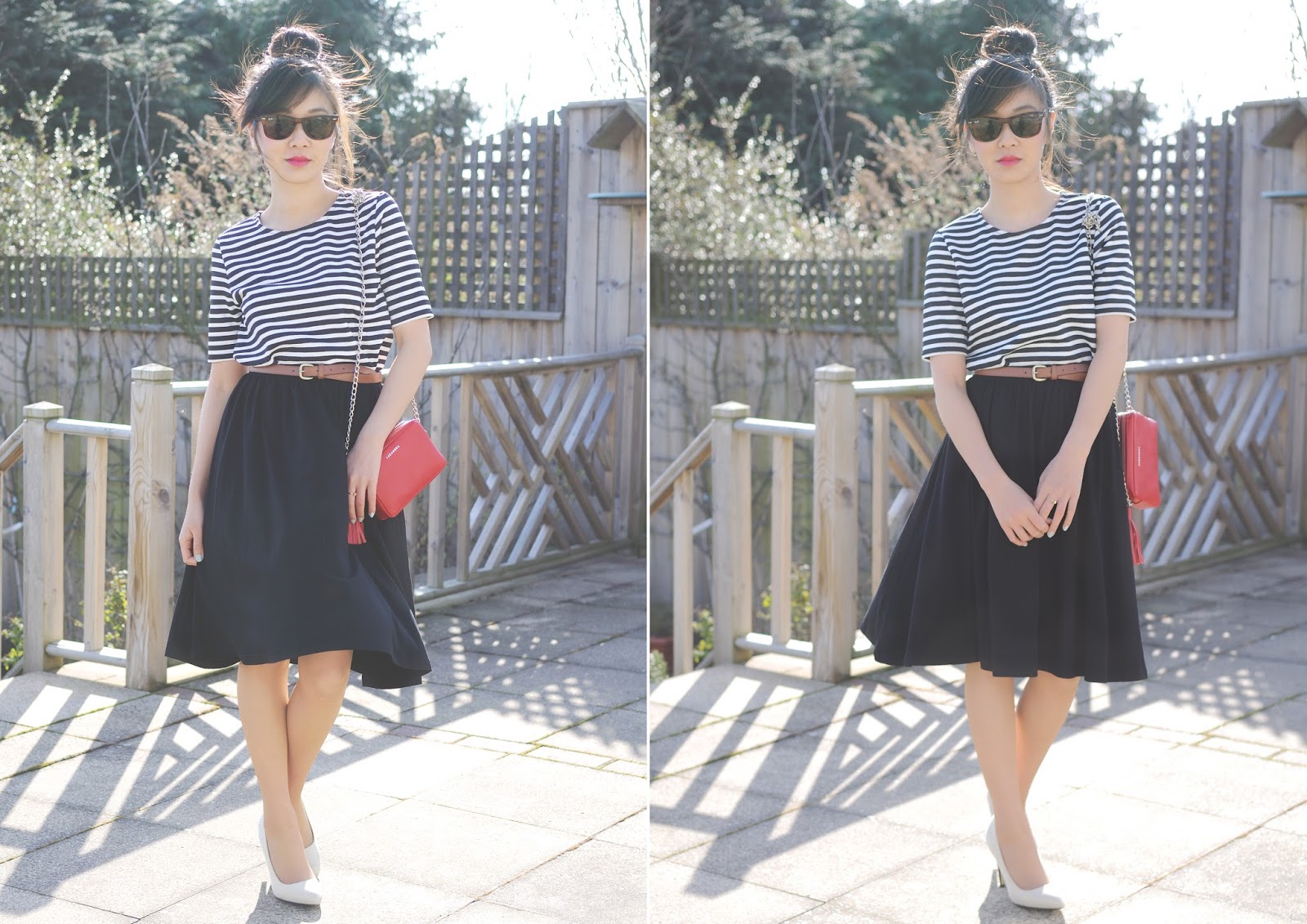 I don't shy away from them anymore and I reckon I've got mastered the maxi-for-petite girls, I am now dabbling in midi's. Although, this
black skirt
is mid-length on me, I don't think it's a true midi skirt as it doesn't go down to my calf, but anyway, it's an awkward length on me all the same.
I've learnt a few styling tricks that works for when I'm wearing these "difficult" lengths. One is to wear the skirts a bit higher up. We're not talking Simon Cowell style (ew), but pulling the waist band up to your belly button will give the illusion of elongating the lower part of your body.
I've applied the same tip here, with my new black midi skirt. Also, if I want it to be an inch shorter so that it's just above the knee, it can be rolled up once before securing with a belt but I've not done this here.
This outfit doesn't look good when I've got my hair down, as it just looks really "weighed down", if that makes sense? Putting it in a top knot gives it a fresh look! Maybe I need a hair cut though, it is so long and feels so heavy at the moment! I've got an urge to get it cut short for Spring, but I don't know if I'm brave enough. I'll just get it trimmed!
I've paired the skirt up with a fairly eye-catching top. Horizontal stripes doesn't suit everyone but I prefer this than vertical, and the stripy top perhaps draws attention away from my skirt. I love this top, I have worn it loads since I bought it!
Accessorising this with a red bag give this outfit a bit of a nautical vibe. The skirt is made of a soft jersey, it feels really nice. It's light weight, and floaty, and totally perfect for Spring. There are loads of
pretty ones on ASOS at the moment
! On me, midi's don't look nice with flat shoes so I'll always have to wear this skirt with heels! Bad for my feet, but good for posture!
Shop The Look