MeMeMe Cheek and Lip Tints*- £5.50 each of £15.00 for a set of four
When I blogged about
Benefit Cosmetic's Lollitint
, the feedback was that it was a lot of money to part with for a bottle of tint, which is 100% understandable. I don't splash out on high end products on a regular basis – maybe 3 or 4 times a year! – but I do love the cheek tints and highlighters from Benefit so I'm willing to repurchase time after time. I'm a huge fan of Benefit and have been for the past decade.
For those who might like to try these types of products but don't want to fork out £24.50 for a tiny bottle, you may be interested in the MeMeMe range. The set that I got contains all four bottles and it is inevitable that they will get compared to Benefit's, but do they perform just as well?
For £5.50, MeMeMe have produced a budget version and they're so affordable that you can get all four bottles for less than the price of one Lollitint! (The
Little Angels set
is currently in the sale on their website for £10!).
The quality isn't the same, of course, and they do unfortunately contain parabens but in terms of the quality, you get what you paid for. The brushes are not as well made but that isn't a big issue because you end up blending the product with your fingers.
Instead of the brushes, I wish that it was perhaps one of those little spatula like you get with some skincare products. However, the MeMeMe tints are not bad at all, they are excellent value for money but it just requires more effort to work them on to your skin. I particularly like the illuminators!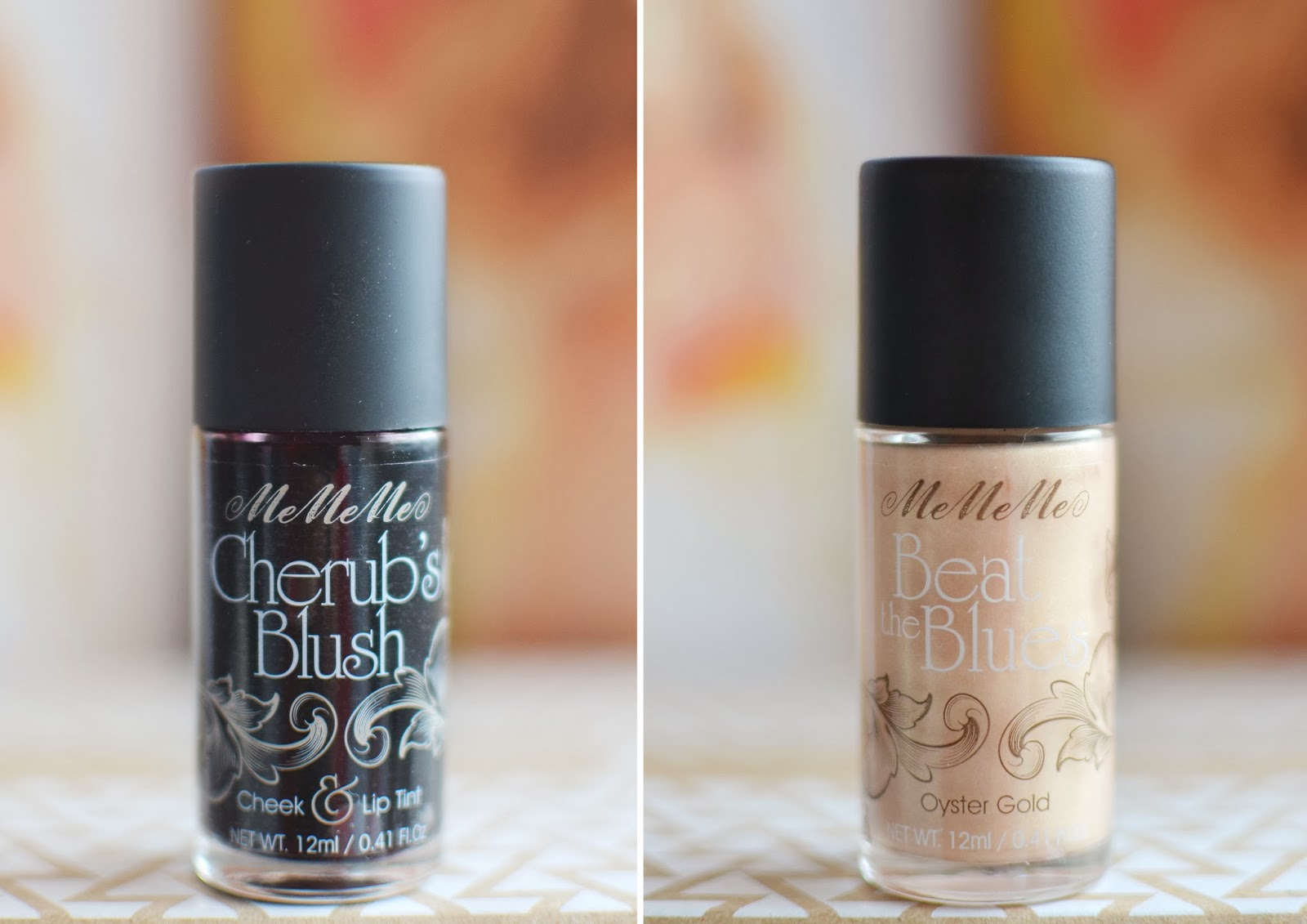 Cherub's Blush:
This rouge tint has got good pigment and excellent staying power. It stayed on my skin all day and the stain remained stubborn when it came to removing my make up at the end of the day. The liquid is a watery consistency which looks extremely dark in the bottle, but it comes out as a nice rosy flush to the cheeks.
I find the runny consistency quite difficult to handle at first, but it blends quite easily and you only need one layer of this for the colour to show up, two is too much for me. The other bottles in this set are odourless, but Cherub's Blush has a rose scent to it. I don't like using these as lip stains so I've not tried it on my lips.
Beat The Blues in Oyster Gold:
I love illuminators and highlighters. I don't use it as much as I used to but it is still one of my beauty must-haves. I usually buy the pearly pink one (high beam) because I'm worried the gold colour would make me look more yellow but this wasn't the case with this oyster gold.
The flecks of gold are really subtle and it enhances my skin with added a natural iridescent shine, making me look a bit more healthy and radiant! It does a great job of lifting dull skin, defining areas like the cheek bone and giving you a slight glow. It can be added to foundation or used on it's own.
Beat The Blues in Pearl Pink:
Now, I have been a really loyal fan of the cult beauty product, Benefit's High Beam, I absolutely LOVE it, so I feel like the first thing to do is to compare the two. If I look at the MeMeMe one on it's own as it is, then I can that it's a good highlighter which does the job perfectly fine.
What I will pick out when making comparisons to High Beam is that this Beat The Blues is not as iridescent but that's not a bad point. It still adds that radiance but just ever so lightly, which is great for those who find High Beam too shimmery. Sometimes during hot weather, you don't want to look TOO SHINY, and this is where Beat The Blues will come in nicely as a replacement. I need to apply a few layers of this until I get it to the level of shimmer that I'd get with High Beam, but it's great that it's buildable.
Cupid's Kiss:
I was most excited about this one, and it certainly looks very pretty in the bottle! It's a bubblegum pink, which is suppose to give you a fresh rosy glow. Unfortunately, this isn't very pigmented and the pink doesn't come up on my skin very well.
A bit of colour starts showing after five or six layers but by that time, my skin starts to feel a bit irritated and the colour is extremely faint. I do love the smooth consistency of this, it's a creamy liquid like Lollitint or Posie Tint. I can imagine this pink looking very pretty on those with pale skin. It gives that beautiful dewy glow (albeit colourless on me) and it actually dries on to your skin quite nice (feels like a serum), it's not sticky or greasy.
I just wish the colour showed up on my face without going through all that effort of applying > waiting to dry > repeat six times.
Apart from Cupid's Kiss, I would recommend these products if you don't fancy splashing out on Benefit products or if you're on a budget (I've been on a spending ban this January and it looks to continue this month!). I know the pearl pink Beat The Blues is pretty popular in the beauty blogging world. Have you tried MeMeMe before?