Best Soap & Glory Body Scrubs
A few weeks ago, I ran out of body scrub so I turned to Twitter and asked which body scrub I should buy next. One of my favourite is Soap & Glory
Smoothie Star Breakfast Scrub
and although I love it, I wondered if there was a better one. So I took to Twitter to ask what body scrubs are best and what I should buy next.
Many of your agreed that Soap & Glory do the best range of body scrubs. And well, if it ain't broke…
I've been waiting for the Boots 3 for 2 mix and match offers so that I could treat myself to a fresh tub of Soap & Glory body scrubs.
I visited Boots last week and I ended up buying three body scrubs (no regrets!) which were part of the 3 for 2 offer. I stocked up on my ol' favourite Smoothie Star Breakfast Scrub, and came away with Sugar Crush as recommended by Twitter, and another one that's a Soap & Glory best-seller, Flake Away.
As soon as I got home from Boots, I jumped in the shower and used a bit of all three to test which one I like the best! They all come in a 300ml tub (last for ages!) and they're all different in their own little way.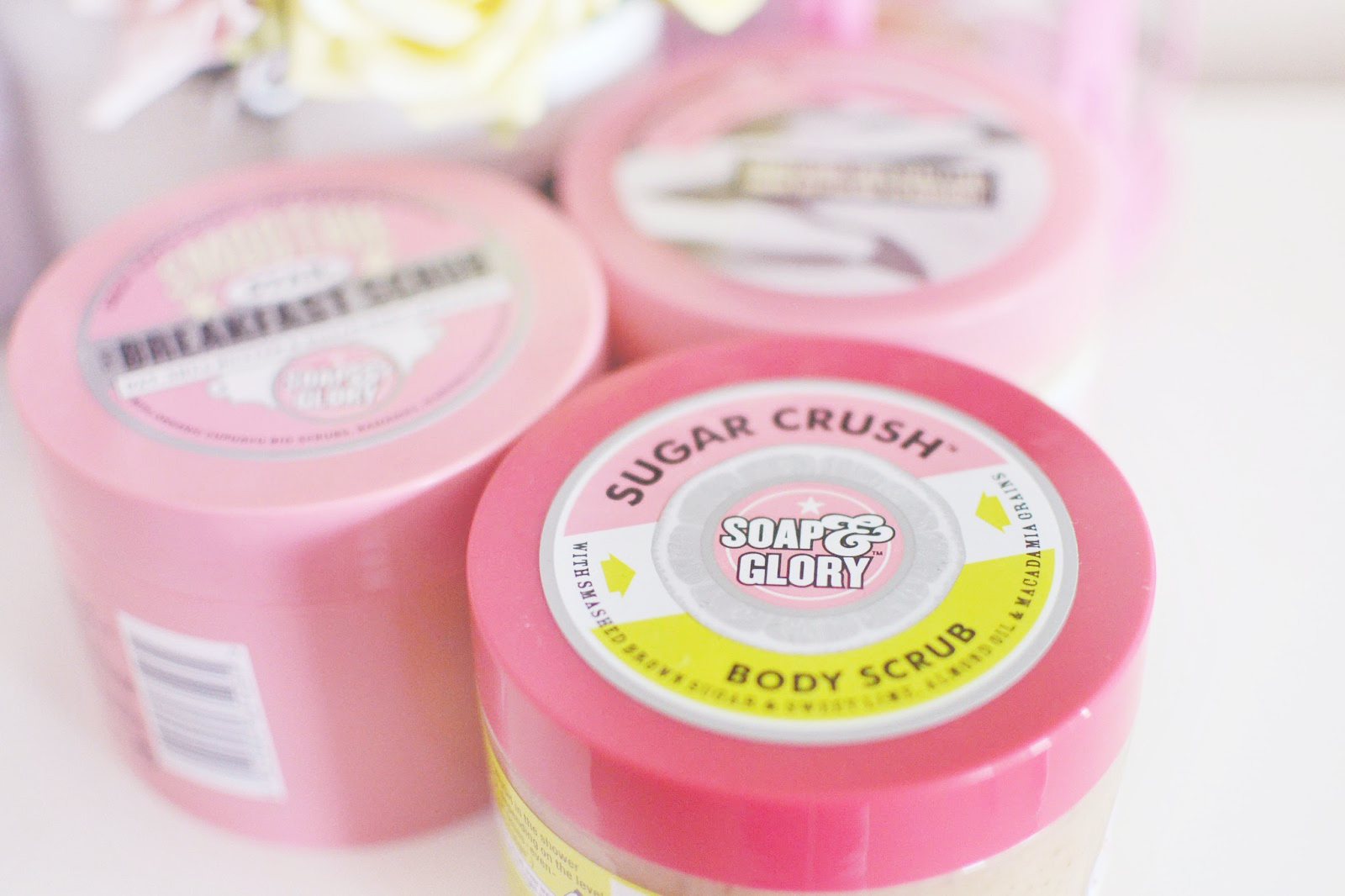 Sugar Crush
Soap & Glory's Sugar Crush is a winner! Formulated with brown sugar, macadamia grains, almond oil and sweet lime. Sugar Crush is such a nice scrub and the fresh zingy lime fragrance makes it smell just like Starburst sweets!
With each scoop, you do get a good amount of "grains" that are quite gritty but the sugar melts as soon as you apply on to wet skin. It's not too harsh on the skin, and it's moisturising too. I love the smell of this one!
Smoothie Star Breakfast Scrub
This is my third tub of this, I'm addicted. The gooey, thick formula is made up of banana, honey, oat, sugar, shea and almonds. If there was one Soap & Glory product that I would recommend, it would be this one.
The smell is divine, like a syrup-y cupcake, so if you're a fan of sweet scents – this one is for you.
The grains in this one is more abrasive than Sugar Crush but don't worry, it isn't uncomfortable or scratchy.
Flake Away
Out of the three, the particles in Flake Away are smaller, and the idea is to grab a scoop of it and rub in to the skin until the grains are gone. It's gently buffs and polishes your skin. Flake Away contains shea butter, sweet almond oil, sea salt, and, of course sugar.
With shea butter and almond oil in it, it moisturises your skin to leave it feeling smooth for days! I use it every other day on the top of my arms to keep the small pimples away.
If you don't like over powering smells, then I would suggest trying Flake Away. It's the classic Soap & Glory signature pink scent. Floral and fruity – exactly what you would expect from a Soap & Glory product.
Soap & Glory is exclusively available in Boots.