This little (big) surprise came through the post and it was the best surprise ever!
I received this sweet treat from Benefit and inside the parcel contained three jars of sweet and a bottle of their new lip and cheek stain,
Lollitint* (£24.50)
. I've tried all the cheek stains in the range so I was delighted to learn that there's a new addition!
Benefit Cosmetics Benefit Lollitint | Review
As I mentioned in my
previous blusher review
, I'm starting to sway towards pink shades and the Lollitint is exactly what I'm looking for.
Benefit's new liquid blush tint is a cool candy-orchid colour, which I think means a magenta pink with purple undertone, because I detect a hint of lilac in this.
Unlike the Benetint (the red one), which is a watery, runny consistency, Lollitint is a liquid-gel formula. It's thick and creamier than Benetint, which allows the liquid to glide more evenly on to your skin until it has fully absorbed.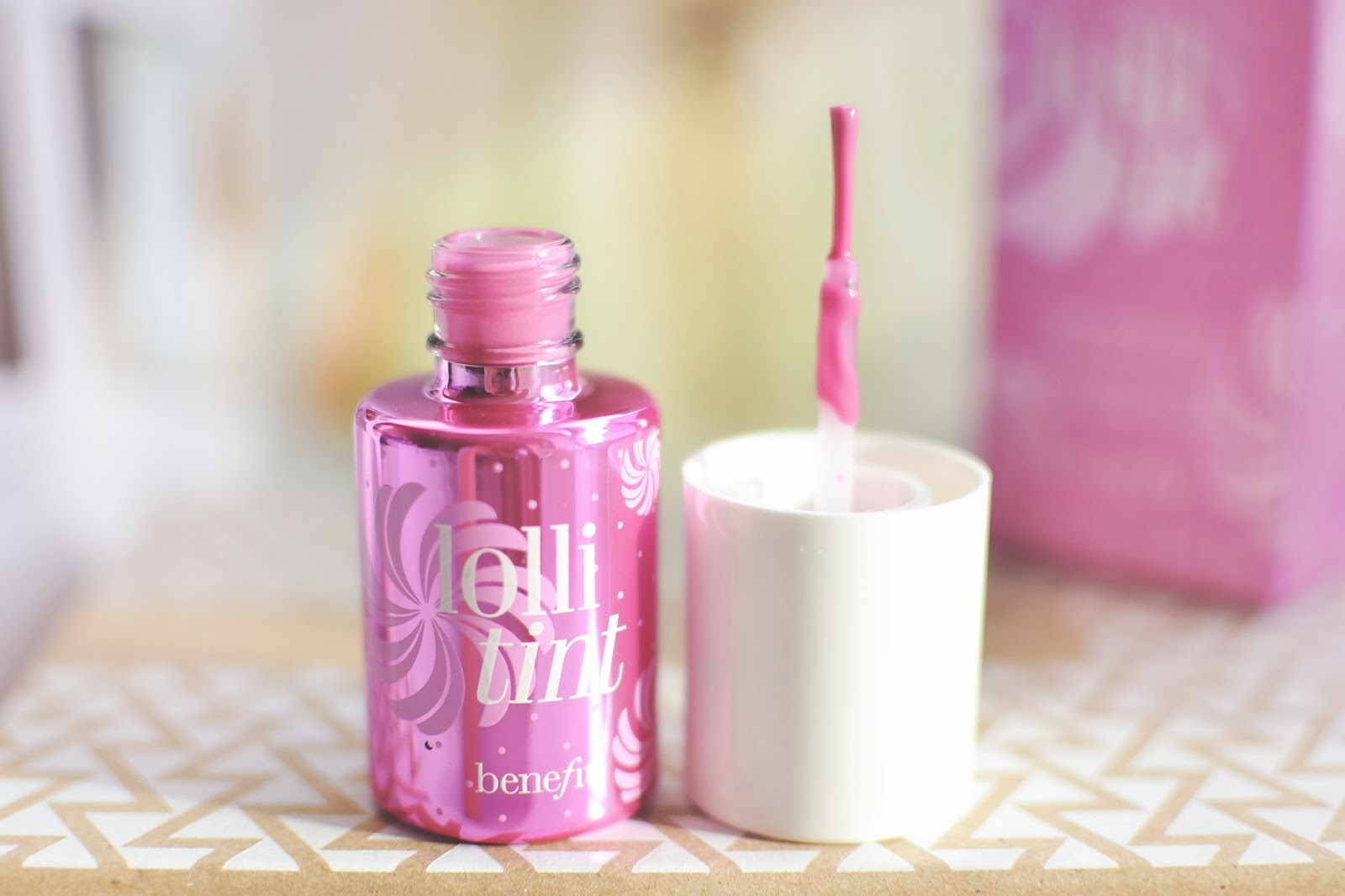 It's just an easier consistency to control than one that it runny. I always end up with patchy cheeks when I used Benetint but I have no issues with the other ones.
It does take practise to get it right but basically, I stroke the tint over the apples of my cheeks (three times, resembling cat whiskers) and then I pat it in to my skin with my fingers until it dries, so the colour distributes evenly through my own control.
It builds up to a beautiful shade of pink that provides a dewy glow without being overly shiny. Some people like to add a stroke of blusher to brighten up the stain but I just build the colour up and then set it with a powder if I want a matte finish.
The beauty of these colour stains is the gorgeous dewiness that it leaves. You can control the colour by adding to it layer by layer, it's easy to give a natural flush of colour or build it up to give yourself dolly cheeks!
The staying power does not let you down, it really does stain your skin for hours and hours. I've never actually tried these on my lips, but I'm really particular about lip colours.
I hope the Glamour gives the miniature samples away as a freebie with their magazine because I think everyone should try this and see how great it is!
In fact, a couple of years ago, those Glamour magazine freebies was the first time I had tried Benetint and Posie Tint, and is the reason why I ended up repurchasing these time and time again!