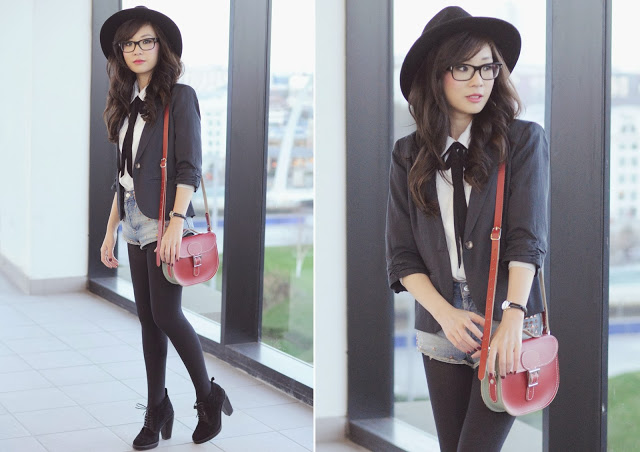 This was the outfit that I said I'd put up on the blog mid week, but that didn't happen, did it! Nope! It feels like I have spent the entire week reply to emails and when it came to the end of each day, I just wanted to switch my computer off and rest my little eyes! So, anyway, this outfit is my attempt to look stylish on a windy day. We actually had plans to go to the shopping centre so I knew we'd be indoors all day, but I didn't want to miss out of the chance to get a few outfit photos. We soon realised what a stupid idea this was. We parked up and walked down to the Quayside, and the riverside breeze just sort of whacked me in the face. The wind was horrendous! It wasn't even that cold until we got to the Quayside!
My winter coat was in the boot or the car but I don't like to wear it when I go shopping indoors, I get all flustered under those hot lights and annoyingly LOUD music. Not to sound like a total granny here… but do they really have to play the music that loud at the MAC counter!? Makes me want to do
this
! Back to the outfit; to keep me warm, I wore a thermal vest from uniqlo (granny alert) underneath my white blouse and also Primark's Super Cosy tights. Denim shorts aren't just for the summer when fleecy tights are so widely available now. You might have heard about these microfibre tights by now, they really are the best ones for this time of year. They are very thick and the inside is lined with a soft fleece material. Definitely get a pair if you haven't tried them before! I think they cost £3.50. I don't care what anyone says, thermal tights are THE ultimate must have accessory every winter. They're not stylish but if someone offered me 1,000 pairs of super cosy tights or a Miu Miu bag, I'd pick the tights! (hmmm…..maybe!…)
Another fail this week, but I haven't got a video to upload onto
my channel on youtube
, but I will try fit a room tour in next weekend! I ordered a few decorations yesterday so they should arrive by Wednesday, so I'll be making my bedroom all lovely and Christmassy!
Social Media Links