Taking Care of Coloured Hair
If you've dyed your hair before, you'll know that it takes a lot of work to take care of your hair for the colour to maintain it's vibrancy. I have been dying my hair using John Frieda Precision Foam Dye which has turned my hair quite a vibrant colour. Well, as vibrant as you can get it using DIY dyes on jet black hair. After several bottles of dyes, my hair is desperate need of quality haircare and conditioning treatments.
In the past two months, I have tried a couple of regular liquid dyes but I am left with very disappointed results each time. My hair is now (still!) a chocolate brown colour but I'd love it to be lighter again. When it comes to hair,
I am quite good with maintaining it
but recently, it has needed some extra TLC. My hair has become fairly brittle after putting it through all that unnecessary hassle and I've taken extra care on a more regular basis.
Use The Right Products
Cleansing:
Use the right products for your colour treated hair.. It is always advisable to use a shampoo that is made for coloured hair once you've dyed it because it will retain the colour (some will even enhance the shade) and protects your hair from further damage. I only point this out because I actually never knew this when I first started dying my hair by myself and I was annoyed at how fast the colour faded!
This one from TIGI is sulphate-free which means it won't be harsh on your hair and it won't strip the colour. It smells like strawberry milkshake and comes in a 250ml bottle. The bottle is quite hard to handle, especially when your hands are wet. The packaging isn't great for a fancy hair care product that cost £13.95 / £15.95, I wish it was designed better, not only for it look nicer but for it to be easier to squeeze out – it's hard to handle when your hands are wet and slippery. But hey, if the shampoo does it's job, then I am willing to look past that!
I always find sulphate-free shampoo quite hard to lather but I just add a lot of water to the blob of shampoo on my hands before applying to wet hair, and then I find that it's easier to lather that way. Without doing that, the shampoo is quite difficult to distribute over the head and it's really hard to wash out. This shampoo cleanses well and my hair was left feeling soft, and it stayed clean and fresh for two days.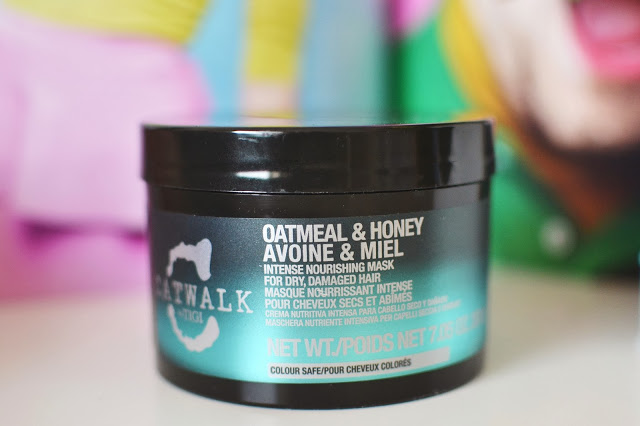 Treatment:
As well as dying my hair, I have been curling and back-combing it a lot, which means I am also using hair spray, volumizing powder or salt spray a lot more than usual. This TIGI Oatmeal and Honey Intense Nourishing Hair Mask is treatment that's suitable for dry, brittle hair, giving it a boost of moisture and shine.
It helps to restore your hair's natural healthiness and prevents breakages – music to my ears! On the back of the tub, it states to leave this in clean, wet hair for 3-5 minutes but the Dirty Locks website says it's fine to leave in for 30 minutes. I do like those hair masks where you keep in for a long time, I just sit in the lounge watching an episode of something on e4 and by the time the TV show finishes, I'm ready to go and rinse the hair mask off.
This smells of this mask is typical of a hair salon, it's nice and makes you feel like you're at the hairdressers (at the comfort of your own home, with no one making small talk with you). For some reason, I thought this might have bits of oats in it but thankfully, it doesn't. The tub contains a smooth conditioning cream which you massage in to hair. It's also great that this is "colour safe" too so no chance of the dye fading quickly.
I use hair masks at least once a week but sometimes twice if I've used a lot of harsh, drying styling products on it that particular week.
Styling:
So, this is not exactly a treatment for dyed hair but using a nice styling product is just as important. Since I got my hair cut few months ago, it hasn't grown back to the point where I can leave it to dry naturally. I have had to blow dry it and the add texture to it myself by curling it every time. When I curl my hair, I don't use hair spray because I have yet to find one that holds my thick hair. Salt spray helps in creating texture but my hair sometimes loose it's shine, but I have found a nice alternative in this lightweight MEGA WHIP from Bed Head.
MEGA WHIP is a whipped marshmallow hair cream that looks and smells delicious! It feels better for my hair because it moulds the hair like a gel but without that greasy wet look. The texture of the cream itself is not soft like marshmallow (and sadly, it doesn't contain real marshmallow.) but it does have a slightly tacky texture like melted marshmallows. But don't worry, it won't ruin your hair!
You only need to use a small amount of MEGA WHIP, even if you have long hair like I do. It can be applied on damp or dry hair but I tend to use it after I've blow dried my hair. It holds the texture quite well throughout the day and it doesn't leave a greasy or crispy residue like a gel or hair spray would. It is fully flexible and gives a matte finish so it looks nice and natural once you've finished styling. It also works in holding straight hair too if you wanted to style it that way.
Bed Head are awesome with their branding and their products are marketed really well. Great product name, smells really lovely and fantastic packaging design! It's a win-win! Who else would have come up with a 'marshmallow' for hair! I've definitely fallen for it!
Social Media Links