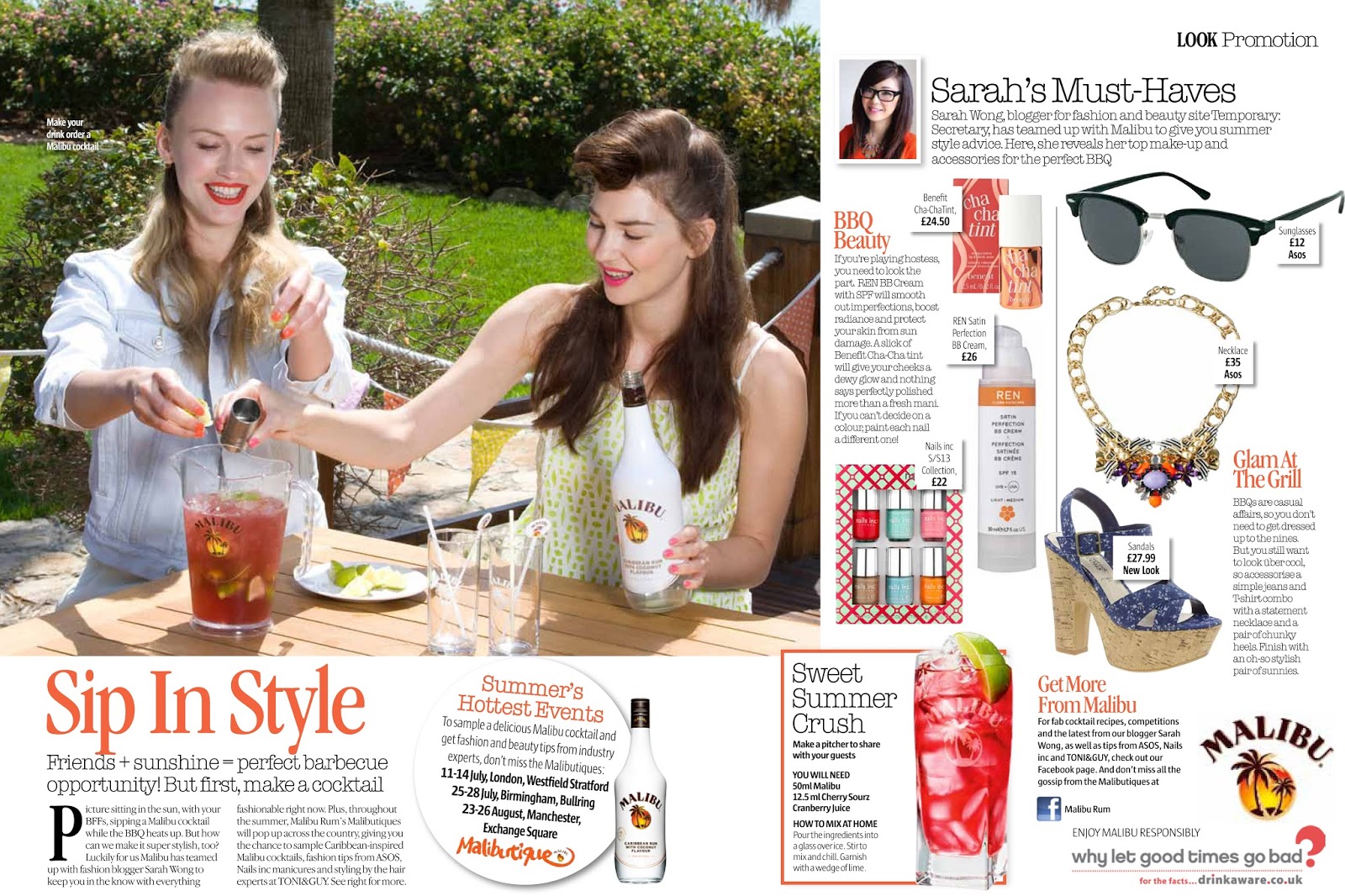 (image credit: LOOK Magazine)
It's not every day you see yourself in a magazine! I have been working with LOOK Magazine in their major Summer campaign with Malibu Rum, it was my biggest project to date and I hope I did them proud! I was selected as their 'go-to' fashion and beauty blogger and I was given my own little column in their double spread advertorial which ran for six issues in LOOK Mag!
For Malibu, working with bloggers was a new thing. And for me, this was certainly the biggest collaboration to date, so I was keen to do a bloomin' good job for such a global brand! I was so excited about it, but kept it quiet until things started to happen. It wasn't part of a competition or anything like that, it was all very straight-forward. There was a few phone calls, a meeting, I signed the paper work and I started working on the project right away.
So, what did the job entail? Well, the main part of it was to create social media content throughout the Summer. Malibu is THE drink of the Summer and the content should to surrounded sociable drinking occasions such as girls night out, garden party, festivals, barbecue, picnics, and so on.
My task was to come up with seventeen pieces of content which involved the latest fashion and beauty trends, revolving around sociable drinking occasions. There was, understandably, some guidelines to stick to but in general, I was given free reign to do whatever I wanted as long as it on-brand and had a link to Malibu cocktails.
I panicked at first (that's pretty normal for me. Is there anything I don't panic about? No.) but after getting over a nervy start, I was on a roll! My favourite is probably "The Perfect Pear" where I featured four pairs of green coloured wedges which would possibly go well with an outfit for a Summer's day picnic with your BFFs, and what's also perfect for that? A can of Malibu & Pear!
Along with the copy (text) and the artwork I created, these posts were uploaded to
Malibu Facebook
and Twitter. With almost 2million fans following their page, I was certainly anxious as we all know how straight-talking people on Facebook are!…
As well as that, I was part of the six advertorials in the issues of LOOK Magazine as mentioned above. I have shown some Instagram shots of the actual magazine page below. There was also a visit to
Malibutique in Liverpool
, which was a fun day! Maybe next year, it will be one of you guys working with them! Thanks to both LOOK and Malibu for giving bloggers a chance to show them what we can do! This has made Summer 2013 very memorable for me!
Social Media Links