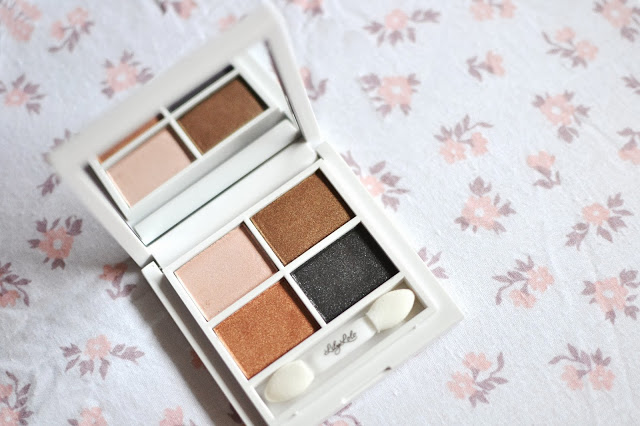 Lily Lolo Mineral Eyeshadow Palette*
I have never been one of those girls that suited all kinds of eyeshadow colours, so I envy those who have a collection full of beautiful palettes. In my early teen years, I've experimented with blues, greens and purples (with a dash of glitter here and there!) but at the time, I was clearly lacking knowledge of what suited me! I think I was just over-excited that I was finally allowed to wear make-up! Once I figured out what shades I suited, I stuck with it and have never looked back.
I love dark eyeshadows, it makes my small eyes appear much bigger than they actually are so I use matte black and brown eyeshadows daily. This palette from Lily Lolo is a shimmery metallic so is a great one to use for the evenings and nights out. The top two colours are my favourite, a sheer rose gold which makes a great highlight above the brow bone and in the corner of your eyes. I also use it to blend and soften the shadow around my eyes.
The two brown/bronze shades are really pigmented but the black comes out as pewter. I am used to dark dark black so was a bit disappointed by this. Overall, the shadows are high quality and are very velvety and silky, it's such a unique formula. It contains jojoba oil for it's nourishing, non-drying properties and the powder is strangely kind of creamy and easy to blend.
Lily Lolo products are free from parabens and perfumes. The brand does not test on animals and are vegan friendly.